Tim Keller and "Living Out" LGBTQI+ London Conference Produces Inclusion Audit for Churches
By Rev Thomas Littleton                                                                                            Aug 15,2018
In light of the controversial  Revoice Conference in July 2018 and the trouble sparked by Tim Keller's speaking at the Living Out Conference while it promoted Revoice , one might expect those involved in the controversy to lay low and avoid further attention . This is not the case. During the Keller conference for LGBTQI+ Christians an " Inclusion Audit for Churches" was planned and presented. That audit was made public on August 15 tweet seen below.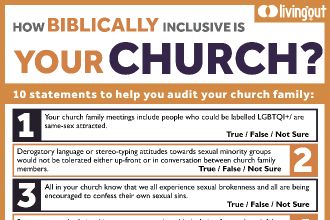 This litmus test is touted to be a self-imposed audit for determining where our churches stand on Keller/ Living Outs touted version of "Biblical Inclusion". From the website it reads –
How biblically inclusive is your Church?
"At our Identity in Christ conference with Tim & Kathy Keller in June 2018 we launched our Living Out Church Audit – a tool to help church leadership teams answer this key question: how biblically inclusive is your church? Unsurprisingly our focus is on those who might identify as LGBTQ+/ same-sex attracted: Jesus included all in a counter-cultural way and we hope this audit will help our churches follow his lead."
Complete with Video http://www.livingout.org/resources/the-living-out-church-audit    Living Out and The Gospel Coalition (of Tim Keller) spokesperson Ed Shaw / same sex attracted priest , informs  you that your church should immediately adopt this Biblically baseless examination of 10  statements of inclusion as the starting point for testing your church culture regarding LGBTQI+. The implications and objections to each are listed following /below under the heading "PROBLEM".
Your church family meetings include people who could be labelled LGBTQI+/ are same-sex attracted. True / False / Not Sure          PROBLEM- Up Front this is a type of quota of a broad range of self -identified activist /sexual minorities who must be welcomed in your church or it is not "inclusive". Given this is an activist culture – future demands of even more inclusion will be made with obligations to include them as well. One example already on the discussion table would be "Child/ Minor Attracted Christians" Biblical response 1 Peter 2:9
2.Derogatory language or stereo-typing attitudes towards sexual minority groups                  would not be tolerated either up-front or in conversation between church family                members. True / False / Not Sure      PROBLEM – This is classic policing of language              fit a politically correct narrative. It implies that both the pulpit and even private                  conversations in the church /among family members will be subject to censorship.            Example the latest sexual minority identity visitor could accuse your pastor or you            violating this language ban /even accused of Stereo-typical attitudes . Biblical                      Response Acts 17 :29-30
All in your church know that we all experience sexual brokenness and all are being encouraged to confess their own sexual sins. True / False / Not Sure PROBLEM- All sin is forced to be seen as the same even though Scripture says homosexuality is depraved, un-natural, rooted in idolatry and detestable to God. All sin is not the same nor is all sexual sin the same. Sexual sin is against our own bodies while homosexual sin is beyond this issue and a sin against nature. 1st John 1:9 He is faith to cleanse us from all unrighteousness not leave us "sin identified"
Same-sex sexual relationships are never mentioned in isolation from other sinful patterns of behavior, or from the forgiveness offered to all through faith in Christ crucified. True / False / Not Sure PROBLEM – The pastor or a teacher of home bible group leader would never be allowed to speak to homosexuality specifically without including all sexual sin. Biblical Response Romans 1:24-26 Paul followed no such rule
All in your church are hearing the same call to radical self-sacrifice of themselves in response to God's giving of himself in Jesus. True / False / Not Sure PROBLEM- In a unified effort to assert that "SSA Christians "are the believers who are living out costly obedience – homosexual desires harbored in the heart of professed Christians are no longer seen as sin but as obedience and the church is compelled to see it as a crown or gift from God. The desired migration of gay activist is then complete." Homosexuality was once viewed as a curse- now as a cross – one day it will be a crown to be celebrated." Biblical Response Proverbs 28:13 those who confess and forsake sin find true mercy. Self identifying by sinful desires is not forsaking sin.
All in your church are encouraged to develop an identity founded first and foremost on their union with Christ. True / False / Not Sure PROBLEM- Given the close association of TGC/ Keller and Living Out with the psychological community which affirms a Homosexual Sexual Orientation exist and that the Orientation assertion equates to a Sexual Identity – then the answer which has been "negotiated " for those with "Christian beliefs " is "Gay Christian Identity" i.e. a "Christ Centered Homosexual Identity " This is simply masked cleverly in Tim Kellers topics at Living Out and in this church Audit which was introduced from it.Biblical Response Galatians 2:20 Its now Christ who lives in us .We are not still "sin identified" but He lives in us.
A godly Christian's sexual orientation would never prevent them from exercising their spiritual gifts or serving in leadership in your church. True / False / Not Sure PROBLEM- Revoice and now Living Out and Tim Keller are calling for Sexual Minorities in Ministry. Time will likely come soon when churches- like municipal agencies / major city Police Departments are required to have full time LGBTQI+ liaisons at public expense . Biblical Response 1 Corinthians 6:11  sin orientation is Biblical  ,a result of the fall , but sexual orientation is the unsupported  claims of of some in the psychological community . Biblical view – our sins are behind us when we are in the faith . Holiness becomes God's house ministers mush not disqualify themselves through sin 1 Cor 9:27
God's gifts of either singleness or marriage are equally promoted, valued and practically supported in your church family's life together. True / False / Not Sure PROBLEM -Marriage is honorable and the bed undefiled. Homosexuality is being impowered by a narrative that celibacy is superior level of commitment to God and that "SSA celibates are the real heros of the faith". This is false. Christian Marriage reflects the relationship of Christ to the Church.  Biblical Response Hebrews 13 :4 , Ephesians 5:32 singleness imposed as a restraint to same sexual desires is not biblical and same sex relationships can never mirror Christ and the Church.
Church family members instinctively share meals, homes, holidays, festivals, money, children with others from different backgrounds and life situations to them. True / False / Not Sure PROBLEM – This narrative would assert that "It takes a Village" is accurate.  It promotes a collectivism as compulsory to expressing Christian Faith and even implies Parents are compelled to "Share their children "with those espousing homosexuality or LGBTQI+ identity.  Tim Keller you are endorsing this? Stay away from our children Mr. Keller. Biblical Response Psalm 127:3-5 Children are a heritage from the Lord for parents. Ephesians 6:1-4 Children are parents responsibility and are to follow parents authority . It does not "Take a gay inclusive  church village "
No-one would be pressured into expecting or seeking any "healing" or change that God has not promised any of us until the renewal of all things. True / False / Not Sure PROBLEM- This statement is clearly aimed at Reparative Therapy or Conversion Therapy and is rooted in the Yarhouse and other APA compliant work of both Christian and Gay Counselors . After only 200 people in the APA studies and 98 people in the Yarhouse studies – it is concluded that sexual orientation exist and seldom if ever changes- thus concluding that the Gospel does not promise change this side of Eternity. This is simply -in the end -asserting the Bible is a lie and modern psychology is correct based on 298 people studied with unwanted homosexual desires. Biblical Response Hebrews 7:24-26
A stateside effort very similar to Living Out and Tim Keller's Church Audit can be found at Church Clarity https://www.churchclarity.org/advocates  . This "test" survey is administered to the church by activist organization advised by two activist no strangers to controversy at Wheaton College. One is Julie Rodgers who is a personal Friend to Revoice founder Nate Collins and others in the Revoice camp. Julie   jumped from the Celibate side B to the fully affirming side A in 2015 after the Obergefell decision making gay marriage legal. Julie is also a good friend and works /appears in conferences with Mark Yarhouse- whose work heavily influences- The Gospel Coalition, Revoice, Living Out, Nate Collins, Sam Allberry , Tim Keller , J D Greear , Russell Moore, Tim Keller , and the list goes on and on.
The Christian church, if it institutionally embraces , LGBTQI+ Christianity then its days are numbered. It will be weighed in the balances and found wanting as will these leaders who brought us here.