Thomas Littleton                                                                                                   10/ 14 /2019
Betrayal today is so commonplace it is often unnoticed . Perhaps it is because it has become expected and we no longer care.We respond with little more than a shrug. This may even be an acquired skill to ensure survival. It is correctly stated "Those who expect little will not be disappointed." Yet not all betrayal is equal.
Spiritual leaders who betray the trust and position they are assigned by divine appointment sell short not only the flock of God under their care but the Good Shepherd Himself. Judas betrayal was foretold -even on the night it took place but that did not lessen his guilt or accountability or alter his fate. Judas paid a high price for his thirty pieces of silver and so too will the modern evangelical sell outs -those followers of Judas whose spines have turned to rubber ,hearts have grown cold ,and convictions either never existed or have become like silly putty left exposed to the sun.
Some may only be going along with the prevailing winds of culture but others are enemies of the CROSS of CHRIST. They know who they are . Betrayers as used here mean evangelical leaders who allow themselves to be taken for biblical conservatives but drive narrative that undermine the very values their hearers take them as espousing . Hiding progressive politics behind historic theological positions is a betrayal of the kind of trust invested to those who play this game . If the narratives were coming out of true Biblical conviction by these leaders then there would be no need to source or coordinate them from progressive political and social science think tanks. Would there ?
FIVE TURNING POINT FOCUSES OF BETRAYAL 
There are five major areas of betrayal rising on the evangelical horizon today. Take the time to look a them in this writers VIEW -of deepening order of importance and decide for yourself about the gravity of each and the long range error these betrayals bring with them.
*POLITICAL BETRAYAL
*HUMAN AND SEXUAL "RIGHTS " BETRAYAL
*SOCIAL JUSTICE FALSE GOSPEL BETRAYAL
*"FAITH AND WORK" BETRAYAL :GOING AFTER A GENERATIONS ACHIEVEMENTS AND THE NEXT GENERATIONS FUTURE MAKING YOUR CHILDREN AND GRAND CHILDREN INTO JUSTICE WARRIORS FOR THE GLOBAL COMMUNITY .
*COLLECTIVE FAITH BETRAYAL :USURPING INDIVIDUAL SAVING FAITH AND THE PRIESTHOOD OF EVERY BELIEVER.
EVANGELICAL POLITICS OF BETRAYAL 
In this article we will look at Evangelical Political Betrayal.
Political life is , at its core ,a life of betrayal . This is universally true because political life requires making promises its betrayer cannot keep and endless efforts to be all things to all constituents . Today we see spiritual leaders forming a whole new type of political betrayal.  This one is framed around a false gospel and laced with talking points from the social sciences and left wing think tanks. This betrayal is made to sound Christian with the overuse of hybrid theological jargon which people like Tim Keller seem willing to simply make up along the way as needed. The political engagement stew is then salted with some bible verses tossed in and then published like a global VBS lesson for spiritual children and made to especially appeal to the idealism of the next generation.It really appears to be more like  a set of cheap shots and sucker punches to the intellect and biblical foundation of believers . And yes- they do appear to assume that we are all too stupid to notice .
Example of the rhetoric : (stop when you have had enough )
https://www.newyorker.com/news/news-desk/can-evangelicalism-survive-donald-trump-and-roy-moore
https://www.premier.org.uk/News/World/Tim-Keller-says-being-a-US-evangelical-is-harder-under-Trump
https://hds.harvard.edu/news/trump%E2%80%99s-evangelicals-inconvenient-teachings-christ#
https://www.newsweek.com/2019/08/23/rebel-evangelical-dismantling-loyalty-christian-trump-supporters-1452681.
htmlhttps://www.cnn.com/interactive/2017/politics/state/russell-moore-donald-trump-southern-baptists/
https://www.russellmoore.com/2018/04/06/signposts-evangelical/
HERE IS A LOOK AT THE LATEST POLITICAL ENGAGEMENT GUIDE FROM SBC CIRCLES .IS IT A BETRAYAL ? YOU BE THE JUDGE .
https://thirtypiecesofsilver.org/2019/10/01/erlc-deep-state-manual-for-2020-political-engagement/
https://thirtypiecesofsilver.org/2019/10/05/russell-moore-erlc-new-age-partnership-sprang-from-mlk-50/
https://thirtypiecesofsilver.org/2019/10/02/russell-moore-erlc-new-age-political-partners/
DISOWNING CHRISTIAN IDENTITY
There was a gathering of LEADING EVANGELICAL THINKERS called by Doug Birdsall because, in his words he was " fearful that this association with Trump now threatened the focus on personal salvation". Nice of him to be concerned about other believers salvation just because he does not like how the vote. Over 50 leaders gathered secretly at Wheaton to discuss these issues. One blogger likened  the closed door meetings to a Bilderberg Group approach for solving evangelicalism problems .
https://www.newyorker.com/news/on-religion/at-a-private-meeting-in-illinois-a-group-of-evangelicals-tried-to-save-their-movement-from-trumpism
"Doug Birdsall, the honorary chair of the Lausanne Movement, an international evangelical organization, decided to move ahead with a two-day "consultation" for evangelical leaders that he had been mulling. According to Birdsall, its aim would be to revitalize Graham's original mission and to discuss the future of the faith.
In the e-mail invitation Birdsall sent to participants, he wrote that the meeting was "prompted by the challenges of distortions to evangelicalism that have permeated both the media and culture since the 2016 election." He recruited Harold Smith, the president of the Christianity Today ministry, which publishes the evangelical magazine of the same name founded by Graham, in 1956; Claude Alexander, a respected pastor in North Carolina; and Philip Ryken, the president of Wheaton College, in Illinois, to help host the gathering. Jenny Yang, a vice-president with World Relief, a refugee-resettlement group, and Gabriel Salguero, the president of the National Latino Evangelical Coalition, were asked to co-chair. (I was invited to attend because for several years I was the managing editor of Christianity Today.) Like many other young Christians, the 2016 Presidential election left me with an acute sense of abandonment.
Birdsall's invitation stated that the "support of 'eighty-one per cent of self-identifying white evangelicals' for Donald Trump is a call to self-reflection on the current condition of Evangelicalism." Nevertheless, he insisted, "Our purpose . . . is neither political nor centered on public policy."
Last week, more than fifty pastors, scholars, and college presidents converged on the Billy Graham Center, at Wheaton, for the meeting. Participants included the Presbyterian pastors Timothy Keller and John Ortberg, and also Mark Noll, a historian of American evangelicalism who is perhaps best known for his book "The Scandal of the Evangelical Mind," a critique of the movement's anti-intellectual bent."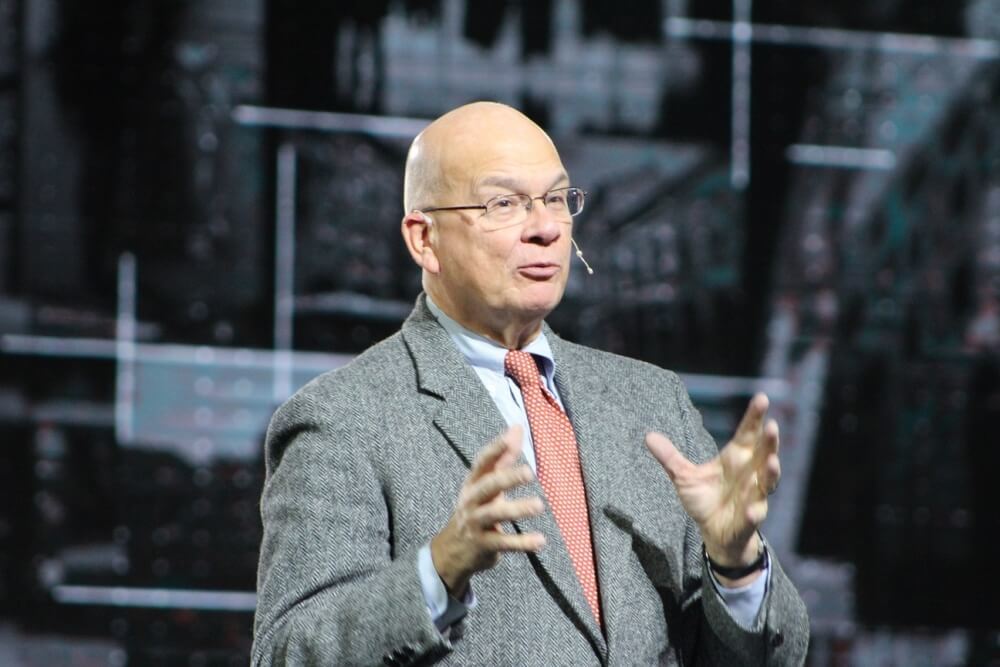 ( Photo from Christian Post article https://www.christianpost.com/books/tim-keller-evangelicals-politics-social-justice-how-churches-should-treat-non-christians.html) 
ONE THING IS CERTAIN -WITH 2020 LOOMING IN THE NEAR FUTURE EVEN MORE SUCH MEETINGS AND STATEMENTS ARE GOING ON AND FORTHCOMING  .
Why are the "conservative evangelical " leaders who found great joy in being in the company of the Obama administration so upset about Trump being President ?
THE PRESIDENCY TRUMP IS NOT THE ISSUE
Love him or hate him Donald Trump altered the US political landscape forever. Presidential politics are a billion dollar industry since the 2008 election and now it is likely to become more and more a billionaire's game. What is really at issue is the future of Conservative Christian conviction reflected in voting patterns .
Leadership in the Old Testament times was a mixed bag. Leaders often are. Moore and Keller and others desire to shame Christians for voting the best they can. The goal goes beyond voting habits to Christian public identity . Betrayers want American Christians to disown their convictions reflected in their political stand but also call openly for evangelicals to disown the very name or label "evangelical " along with the very identity . The call is repeated over and over but the goal is not to find a Gospel stance in political engagement but rather to move believers left of center on EVERY
Ironically the spiritual political betrayers are everywhere and seldom even try to hide their betrayal . "Never Trumper Evangelical" leaders like Russell Moore and Tim Keller appear willing to brazenly feed themselves without fear among the flock while they sell you the snake oil of progressive political talking points and assert them as "gospel values " reflected in the "justice policies" of the Democratic Party. All this takes place while one of the most honest people in the Democratic loop Cecile Richards will plainly tell you "you cannot be a Democrat unless you support ABORTION". Worst of all your children are being sold this bill of goods at every hand.Even in Christian media , educational institutions ,(where parents are often paying the tuition ) and in your very own churches .  Soon it is likely  Planned Parenthood will have no problem finding even more support from "conservative Christians " . Liberal churches are already devotees at these pagan alter fires.
HONEST INJUN /SCOUTS HONOR/READ MY LIPS 
So who is HONEST here ? Is it the woman whose organizations budget reached over a billion dollars a year by 2015 by being faithful to its supporters who want to promote "women's rights to choose" and control "global birth rates " ? Or is it the SBC "ethicist "Russell Moore and the PCA's new C S Lewis Tim Keller who wrap their narratives in theological packaging and offer answers and responses to the Christian masses which undermine one of the most black and white convictional issues of our time or any time? Sadly the former head of Planned Parenthood – perpetrator of global child slaughter that would make the priest of  Moloch blush – is more honest than our evangelical talking heads in their political talking points.
This art of theological deceit is practiced across the realm of those leaders in network with Moore and Keller. They cover a range of issues in their casting the vision of a new liberal Christianity with conservative dressing but none more revealing than in the issue of abortion . You can read at this link as Mark Dever and Jonathan Leeman or The Gospel Coalition/ 9MARKS / ERLC practice the talking points calling out Christians for being "single issue voters". How dare we think the value of life can be distilled into a single issue i.e. saving babies from slaughter ?
https://thirtypiecesofsilver.org/2018/11/17/9marks-dever-and-fabian-socialist-trained-editor-how-to-ditch-your-pro-life-voting-habit/
If we have been slain it was either by the hand of our own or the willingness to deliver Christians  up to their slayers. David did not escape his betrayal of Uriah the Hittite even though it was a hand other than Davids who did the deed. Guilt will find the shedder of innocent blood. It is  had and fast rule of life in God's economy .Betrayal  results in death .If not  death of the person betrayed – Betrayal does bring about the death of Hope and Trust and often the Hope of the Future .In the worst of cases it brings about the death of the most precious commodity -the FAITH of the betrayed. This is the worst of all possible results. Many are being and have been so betrayed by spiritual leadership today that their very faith in God and His Word are in crisis. While modern day betrayers count their thirty pieces of silver , build their etifacies and organizations and write endless books and conference -many do so over the scattered dry bones of their victims .
We must ask and answer again the question "can these bones live?". Our reply must be "O Lord thou knowest" for it is beyond human capacity – but nothing is too hard for the LORD of Host.
As far as politics and us regular Joe believers …the 2020 election cycle is well inplay . So are the betrayers of your faith and ,if the have their way… the betrayers of your vote and of life as we know it in America. Perhaps that is less of a Kingdom issue but The world still looks to America for personal freedoms like Religious Liberty . It is certain those who hate our way of life have no commitment to such personal values. Do our spiritual leaders or are they just saying that they do?