FAITH BASED PARTNERSHIPS ARE BEYOND PROBLEMATIC- AS BAPTIST ERLC PUSHES FOR PRISON REFORM AND CHURCH OF THE HIGHLANDS SEEKS TO HOUSE SEX OFFENDERS IN RESIDENTIAL COMMUNITIES, THIS ONE IS AMONG THE WORST.
Rev Thomas Littleton                                                                                                     2/3/2020
A little more than a year and a half ago some residence of Northeast Alabama near Muscle Shoals discovered a local motel in their residential community had begun the transition to a half way house for prisoners in a new program called Prison Re-entry , a work release program in a Faith Based Partnership with the Department of Corrections, Church of the Highlands/ Life Link and local business men. Upon further investigation the converted hotel had been purchased by a local businessman to house the Re-entry program from which he and other local businesses would find a ready labor force in partnership with the local Chamber of Commerce AND a newly planted Highlands "Shoals" location of Alabama's fastest growing "multi site" Mega Church.
https://www.churchofthehighlands.com/campuses/shoals
CITIZENS CONCERN FOR CHILDREN / FAMILIES NEAR THE HALF WAY HOUSE
Already scheduled to be moved into the half way house were around 6 to 7 inmates the majority of whom were to be newly released sex offenders. Total capacity for the facility was proposed at 35-40 residents. Not only were local members of the community never informed of the plan or given opportunity to object to it, the local website tracking such offenders whereabouts had never been updated to include the motel and its residence in what the Re-entry "industry " refers to as "clustering sex offenders".
Concerned citizens sought answers and found the main partner in this new community development plan was not just local businesses but the Church of the Highlands -a popular Alabama church now boasting a new Muscle Shoals location for one of it's 20 plus multi -site churches. Highlands choice to locate a new branch in the North West Alabama region looks to have been coordinated with the start up of the Re-Entry housing and partnerships. More updates guidelines including the Highlands / Life Link position as " Stakeholders" in the ongoing plan also discusses the problems with placement of "Sex Offenders".
LOCAL HIGHLANDS SHOALS  PASTOR DENIED INVOLVEMENT WITH THE RE-ENTRY HALFWAY HOUSE.
An interview was set up with the local Highlands pastor which was recorded out of concerns that Muscle Shoals Highlands pastor would be less than forthcoming. The recording proved to be a wise move as the pastor denied any Church of the Highlands involvement. This denial is just one of MANY ongoing problems to surface with the scheme which is also derived from the  Southern Baptist Ethics and Religious Liberty Commission (ERLC) and other evangelical groups years long push for broad Prison Reform and key Faith Based Partnership involvement.
The push for broad Prison Reform has produced, among other things, the Re-entry Program. Claims that Highlands was not involved are not credible since it's own Prison Ministry  and Life Link has now taken over MOST of the work on Prison campuses which includes "ownership " of operating the "Faith Dormitory " through which all Re-Entry program inmates must flow into the program state wide. Given the acknowledged problems with locating sex offenders -the Partners involved cannot dismiss the validity of these issues related to citizens concerns over Children and families in the community which had been identified for the RE-Entry program.
ADVANCING IN THE SHADOWS
So why was the project advancing in the shadows without engaging the citizens in the process?
(Note : This author has done many years of Prison and Jail ministry and worked with Chaplains and faithful local ministries, inmates, and the families of inmates. The idea of providing Gospel ministry to and opportunity for inmates successful return to society and outreach and support to family members of inmates is NOT at issue here. What is at issue is a very flawed Faith Based Partnership model from the Obama administration and progressive partners like the ERLC that is a disaster waiting to happen.
Nothing good will come from allowing opportunity for inmates to be released into indentured service for a cheap labor pool through the Chamber of Commerce in order to attract businesses.
Church of the Highlands statewide take over of prison ministries, which began in 2013 looks to be driven to form such partnerships. These are problematic in the long term since the Federal and State funding guidelines actually forbid ministry in any  Faith Based funded programs in the name of protecting non-establishment clauses AND "non-discrimination" demands. Being yoked with Government funding/ tax dollars adds many such restrictions.
https://obamawhitehouse.archives.gov/the-press-office/2010/11/17/executive-order-fundamental-principles-and-policymaking-criteria-partner
see article 17 in the archived guidelines – https://mail.google.com/mail/u/0/#search/faith+based+ministry+forbidden/KtbxLwGgGnmrdKqqDCHKKMBSRpPWxDDGzg
MINISTRY AT THE EXPENSE OF ENDANGERING A COMMUNITY?
Church of the Highlands prison ministries cannot  help to serve the spiritual needs of inmates at the expense of endangering the local communities in which they intend to run MANY such Re-Entry half way houses with clustered inmates including sex offenders.)
RE-ENTRY HOW IT WORKS AND OTHER PARTNERS WITH THE CHURCH
Template in Tuscaloosa Alabama from 2017-18
http://www.tuscaloosachamber.com/posts/2017/09/13/new-collaborative-efforts-will-launch-a-prisoner-re-entry-ready-to-work-program
New Collaborative Efforts will Launch a Prisoner Re-Entry Ready to Work Program
September 13, 2017, 3:53pm
"Collaboration is a fundamental factor in building success. One of the ways in which West Alabama Works is achieving progress is by merging the strengths of the faith-based community, post-secondary education, and workforce development partners to create a Prisoner Re-Entry Ready to Work Initiative. Looking at the area's needs, available resources, and how those combine to make long term, systemic change is a fundamental aspect of what occurs through West Alabama Works' mission."
"The Church of the Highlands has been working with correctional facilities for 5 years, offering assistance to thousands of inmates. More than 2,000 inmates attend church each Sunday and participate in small groups in the 14 correctional facilities The Church of the Highlands serves. The Church of the Highlands partners with LifeLink, a non-profit service provider to the Alabama Department Of Corrections, to deliver content to ex-offenders and offer instruction in areas such as soft skills. The University Of Alabama School Of Commerce also provides adult education to inmates."
"Ready to Work classes will start in January 2018 at the Bibb County Correctional facility. Randy Walker, Highlands Correctional Ministries Pastor states, "We are always hopeful that any efforts to help incarcerated citizens successfully navigate their next steps will result in a better, more peaceful society for us all. We as a local church, are fully committed to serve and to support all efforts to make our state's correctional system the best."
"Local employers, such as CEMEX and Ready Mix USA are already excited to hire graduates of the Prisoner Re-Entry Ready to Work Program. Ready Mix USA is committed to hiring people that need a second chance. According to Marc Bryant Tyson, President of Ready Mix USA, "Our people drive for our success. We develop their potential in a meaningful way while keeping them healthy, safe and engaged. We are excited about the opportunity to partner with the LifeLink CORE Program, the Chamber of Commerce of West Alabama, The University of Alabama School of Commerce, Shelton State Community College, Bibb County Correctional Facility and Church of the Highlands."
"Innovation that helps industries and benefits the community is welcomed and encouraged. The team at Church of the Highlands would like to open up the opportunity to any faith based organization in the West Alabama region interested in partnering in this extremely valuable endeavor."
LARGER PRISON REFORM MOVEMENT LED BY BAPTIST ERLC / RUSSELL MOORE
The  Southern Baptist Ethics and Religious Liberties Commission is headed by  former Democratic Congressional staffer Russell Moore who loves being in controversial political skirmishes. Moore's ERLC commissioned a consulting firm Arrowhead Advising to help ERLC lobby for Prison Reform at the Federal level
Text for H.R.3356 – 115th Congress (2017-2018): Prison Reform and Redemption Act
Text for H.R.3356 – 115th Congress (2017-2018): Prison Reform and Redemption Act
ERLC CONSULTANT FOR PRISON REFORM IS LGBTQ ACTIVIST AND "EXPERT IN INTERSECTIONALITY" 
The ERLC Consultant is also a leader of the controversial LGBT+ Thriving Movement in conservative churches "Revoice " movement .
The ERLC consultant's name is Branden Polk and his area of expertise is in Social Justice and Social Change  at the intersection of racial and "LGBTQ civil rights". This is realm is called "Intersectionality " which confirms that Polk and his Arrowhead Advising work with Prison Reform is being approached as a " Justice " issue for the incarcerated.
This also means that the ERLC Reforms have a decidedly leftward leaning political component which will include "restoring voting rights " to convicted felons -a hopeful winning strategy for Democratic Party Candidates in keeping with ERLC's Russell Moore's own political leanings and agenda.
ERLC ON VOTING RIGHTS
Barred from the voting booth
"Currently, Tennessee is one of 11 states that bans people with a felony record from voting unless they run a complex bureaucratic gauntlet to restore their right to vote. If the person moves, even within the state, they have to repeat the process. Restoration of voting rights also requires people to pay all fines and costs in full—a standard that's often unattainable for people working low-wage jobs. "
"Crime is serious and requires accountability, but voter disenfranchisement lasts long after people have paid their debt to society."
BAN THE BOX  ANOTHER ADVOCACY FOR CONVICTED FELONS RIGHTS
Another Part of the Prison Reform effort includes what is called "Ban The Box " a  product of multiple Civil Rights organizations regarding "employment discrimination" for requiring applicants to check a box indicating they HAVE been convicted of a crime before.
"How it Began
: The 
Ban the Box
 campaign was started by 
All of Us or None
, a national civil rights movement of formerly-incarcerated people and our families. We started the campaign in 2004, after a series of Peace and Justice Community Summits identified job and housing discrimination as huge barriers to our successfully returning to our communities after jail or prison. "
BAN THE BOX VIEWS THE CHALLENGES OF RE-ENTRY AS A JUSTICE ISSUE
So in order to secure "justice " for those convicted of a felony the general public , employers, neighborhoods, and even schools and day cares would be POTENTIALLY  be denied the ability to know if a person has been convicted of a felony or has been incarcerated.
LEFT LEANING CORPORATIONS "BAN THE BOX"
LEADING THE WAY AMONG NATIONAL COMPANIES TO "BAN THE BOX…?
"Several large companies have adopted the "ban the box" policy: Starbucks, Facebook,
Home Depot, Target ." Interesting that all those eager to provide "justice" for offenders potentially at the expense of past of future victims are MOSTLY VERY LEFT LEANING  Corporations.
TARGET "BANNING THE BOX"  SHOULD COME AS NO SURPRISE SINCE IT WANTS TO OPEN THE DOORS OF THE WOMEN'S RESTROOM TO ALL COMERS FROM THE TRANSGENDER COMMUNITY. 
BAPTIST ERLC CALLS ON COMMUNITIES AND CONGREGATIONS
ERLC "A trend toward second chances"
"Tennessee is on the right track. Gov. Lee has served on the board of a faith-based reentry program for men and exhibits strong leadership toward restorative solutions in criminal justice. The governor even issued a proclamation making April Second Chance Month to "[increase] public awareness about the reentry needs of returning citizens and opportunities for individuals, employers, congregations, and communities to extend second chances."
 BACK TO HIGHLANDS SHOALS RE-ENTRY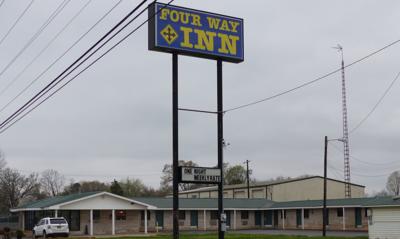 "The Four Way Inn motel on U.S. 43 is part of an Outreach Re-entry Ministry for individuals who have served time in prison. File/Times Daily"
 CHURCH OF THE HIGHLANDS SHOALS  DENIED INVOLVEMENT BUT….
Since the local concerned citizens both met with  Church of the Highlands Shoals  pastor , where he denied Highlands involvement , a broader coalition of concerned citizens also organized multiple efforts to raise awareness and have twice brought the issues with Highland's Re-entry work release program and Sex Offenders before the local government in public meetings. Out of this effort has come a BILL proposed to limit the location of such Re-entry programs to non residential areas AND to force inspections of operations and require the locations to be BONDED to protect citizens in the case a child or local citizen is victim to a Re-entry Program inmate.
That Bill is called –
"REAGAN'S REENTRY PROGRAM FOR SEX OFFENDERS CHILD PROTECTION"
https://www.facebook.com/problemswithfaithbasedreentryprograms/
HIGHLANDS INVOLVEMENT AT THE CORE OF RE-ENTRY CONFIRMED
During the local efforts to stop the locating of the Re-entry half way house in a residential community, Highlands prison minister and other partners were busy compiling this 2019 plan for Re-entry and its partnerships .
Here is the link and some excerpts :
http://outreach.aum.edu/sites/default/files/Transitional%20Housing%20for%20Alabama%27s%20Former%20Inmates.pdf
TRANSITIONAL HOUSING
FOR
ALABAMA'S FORMER INMATES
Certified Public Manager® Program
Solutions Alabama 2019
PARTNERS INVOLVED
Alabama Department of Corrections
Alabama Department of Insurance
Alabama Department of Revenue
Alabama Law Enforcement Agency
Retirement Systems of Alabama
Alabama Department of Corrections, Re-Entry Director
"The transitional housing project team would like to acknowledge and thank the following people and organizations for providing their assistance and support throughout this project."
Chamber of Commerce West Alabama, Workforce Development
The Foundry Ministries
Without Walls Counseling P.C., CEO and Licensed Professional Counselor
A Cut Above the Rest,
Church of the Highlands, Pastoral Staff
"There will be a large number of non-violent inmates released each year. In 2018,
15,225 inmates were released from ADOC's jurisdictional custody with approximately seventyfour percent (11,217) having served less than ten years. These newly released inmates often leave prison without much assistance; however, they are expected to thrive as productive, lawabiding members of society."
"Of the facilities identified through research, forty-seven
percent designate themselves as transitional facilities for former inmates; thirty-six percent are homeless shelters and eighteen percent are recovery facilities. ..Family homeless shelters are the strictest on who is allowed to stay, due to
concerns for the women and children who seek shelter there. Recovery shelters generally do not provide transitional housing for former inmates, even though some former inmates will still need the recovery programs on the outside of prison to succeed."
WHERE IS CHURCH OF HIGHLANDS CONCERN FOR LOCAL FAMILIES ?
( NOTE :CONCERN FOR WOMEN AND CHILDREN IN "FAMILY HOMELESS SHELTERS" IS ACKNOWLEDGED BUT NOTHING IS DISCUSSED ABOUT SAFETY OF WOMEN AND CHILDREN IN COMMUNITIES IN WHICH RE-ENTRY PROGRAMS ARE TO BE LOCATED.)
SEX OFFENDERS DISCUSSED
"Mr. Jerome Wells, CEO and Licensed Professional Counselor of Without Walls Counseling P.C., counsels federal prison sex offenders and individuals with addictive type behaviors. Those counseled are generally from Dismas Charities in Montgomery, a residential halfway house for federal inmates. At Dismas, the former inmate is required to complete a three month stay. Dismas provides transportation and medical services. According to Mr. Wells, it is difficult for sex offenders to find suitable housing and Alabama refuses to allow a contract for a sex offender to stay in a halfway house. Mr. Wells stated the federal government has re-entry services to ensure
Transitional Housing | Certified Public Manager® Program CPM Solutions Alabama 2019  a former inmate has access to resources to get identification cards and other services before leaving prison. "
WITH NO LEGAL NOTICE THE MUSCLE SHOALS RE-ENTRY PROGRAM HAD PLANNED/ ASSIGNED INMATES OF WHOM OVER 65%  WERE SEX OFFENDER AMONG THOSE SCHEDULED FOR THE 4 WAY INN.
The problems with "clustering " of sex offenders in residential communities might seem to be obvious to most but it seems they are not to Church of the Highlands or Prison Re-entry Program partners .
CHURCH OF HIGHLANDS WAS DOING THE SAME THING IN HARPERSVILLE ALA.
https://abc3340.com/news/local/future-use-of-flea-market-raises-questions
"A post is making its way across social media regarding the future use of a flea market on Highway 25 between Harpersville and Wilsonville. The post's author claimed the site will be turned into a halfway house for sex offenders, and he urged his community to "show up and help stop" the plans at a meeting that has since been rescheduled."
"The Church of the Highlands ministers to Bibb County Correctional Facility inmates, some of whom may have a role at the new transition facility, according to the mayor's sources. As part of the church's ministry program, inmates will build "tiny houses" for use at the former flea market site. After inmates complete the program and are released from prison, they can qualify to live at the facility's tiny houses for a certain period of time. In their time at the facility, former inmates can receive training in a specialized trade. We are told that some of the residents would be sex offenders, and the address of the facility is compliant for registered sex offenders."
HOW MANY RE-ENTRY HOUSING FACILITIES ARE THEIR ACROSS THE NATION ?WHAT PERCENTAGE OF SEX OFFENDERS WILL BE HOUSED IN THEM? NO ONE KNOWS .
This program continues to spread across not only the state of Alabama but the 2019 plan shows the participation of states all across the South East. Residents in the Shoals have NOW been INFORMED that their community "WILL have the Re-entry Program whether they like it or not"!
Perhaps in stead of merely waging an ongoing battle in the press and the struggle for legislation alone – Residence could /should also BOYCOTT  Church of the Highlands who APPEARS to have CHOSEN TO locate in the Shoals area to launch it's Re-entry program in partnership with the local businesses eager to hire sex offenders which Church of the Highlands seems only to glad to provide without notifying the local community.
CONCLUSION
Faith based Partnerships prohibit ministries form freely proclaiming the Gospel. Explicitly Religious Activity is forbidden in Government funded programs. Of course the limits are often tested on these prohibitions BUT it is the law under Faith Based Partnerships guidelines. Ministries are compelled to provide services funded by the Government in a "non discriminatory " manner and must seek to find and operate on "common Ground" for "the common ground ".
In the case of Faith Based Prison Re-entry programs ,for EXAMPLE this would include access to these programs by the growing prison population of  radical "Nation of Islam " followers. This is Louis Farrakhan organization known for it's racist and anti Christian rhetoric and widespread evangelism among the incarcerated. Farrakhan is very controversial and operates on the fringes.
"On May 8, 2010, Farrakhan publicly announced his embrace of Dianetics and has actively encouraged Nation of Islam members to undergo auditing from the Church of Scientology." Nation of Islam is a huge issue for Prison Ministries among prison populations. This movements affinity with both radical racism and Islam is only made more problematic by adding association with the CONTROLLING cult of Scientology . Faith Based Programs like Highlands Re-Entry CANNOT turn these religious "seekers" and devotees away from participation on some level with Re-Entry programs without being charged with discrimination.
VICTIMS/CITIZENS  RIGHTS VS  SOCIAL JUSTICE FOR PRISONERS ?
Based on the inmates who have surfaced thus far in the Church of the Highlands Re-Entry program locations and half way houses – Sex Offenders enjoy equal protected status.  The COURTS  have long favored the rights of VICTIMS  of crime over the perpetrators "rights". In the rush to Prison Reform and to CASH IN on Faith Based Grant funding- the rights of both victims and communities looks to be taking a back seat to INMATES  while the citizens whose communities are left in the dark, impacted and whose tax dollars are supporting the "partnerships".
Perhaps Church of the Highlands many pastors should locate the Re-Entry programs in their own communities so they can understand these communities concerned with and in opposition to their Faith Based Partnership "Re-entry Vision ".