ED LITTON TOOK THE DISTRUBING SOCIAL JUSTICE AGENDA OF THE ERLC/TGC 2018 "MLK/50 " EVENT AND TURNED IT INTO HIS OWN ALABAMA BRAND. NOW HE IS TOP DOG IN THE NATIONS FASTEST DECLINING CHRISTIAN MOVEMENT.
Rev Thomas Littleton
6/17/2021
Passing a new gavel at the SBC annual was a selfie op for two Baptist leaders.
(NOTE: This author lives in the Deep South and can affirm that such radical misrepresentations as are leveled at Christians by people like Russell Moore and companions playing the race card like Ed Litton. Such ongoing shaming and finger pointing is nothing short of brazen progressive politics in an attempt to divide and divert the church from it's Gospel mission -even while hiding behind an icon of the Civil Rights movement in his 80s. Russell Moore was defrocked by Baptist leaders going into the SBC annual meetings for 2021 and manipulated the same kind of accusations of both racism and sex abuse at his former bosses and fellow Baptist while they paid him a 6 months severance and bonus package. Moore and Litton and others like them are working to further the kind of racial divide which fuels Black Lives Matter sentiments based on politicizing race for power. Does prejudice exist ? Yes everywhere and along all kinds of lines including race. Are people abused by religious leaders? Yes and much of it is same sex abuse and covered up by religious bureaucracy for a host of reasons. But when it comes to weaponizing race and gender and accusation ….THESE LEADERS WILL STOP AT NOTHING AND THESE LEADERS KNOW NO SHAME.)
BILND TO THE DECLINE AND ERROR BAPTIST LEADERS YUCK IT UP IN CELBRATION
For some reason outgoing SBC President J D Greear is still smiling large after his three year reign as leader of the Baptist produced the largest decline of over 435,000 members in 2019. Greear is a guy trained by the compromising influence of Leadership Network in the Evangelical community. Leadnet coached guys like Greear, Rick Warren, Tim Keller and Ed Stetzer providing them with resources to build mega churches and have large media outlets.
NOW THE GAVEL PASSES TO A NEW PROGRESSIVE LEADER.
MLK/50 was a watershed moment for the opposition to the false Social Justice Gospel in the SBC. The April 2018 ERLC/TGC co-sponsored event actually birthed concerns which gave rise the "Dallas Statement " by Fall of that years. It was still a buzz of concern during the 2020 annual meetings and culminated are was rearticulated in the massive opposition to Resolution 9 affirming Critical Race Theory and Intersectionality during and after the 2019 Annual Meetings.
Of no real concern to the elites who control the SBC annual meetings, seminaries, missions organizations, the train just kept moving toward the next progressive station as opposition from conservatives was not only squashed but vilified as a "Conservative Insurgence " or efforts of a "Right Wing Take Over" filled the headlines.
LITTON REPRESENTS THE PROGRESSIVES WING WHO SOME CALL "MODERATES"
Ed Litton is a pastor in South Alabama and took his friend Russell Moore's MLK/50 lead and invited him and the Racial Wealth Redistribution advocate John Perkins into his region to ensure a further movement of the Social Justice agenda in the Deep South.

Russell Moore@drmooreCan't wait!Quote Tweet
Ed Litton@EdLitton · Jun 15, 2018 Pray for Shrink the Divide racial reconciliation Gathering in Mobile, on July 24th -John Perkins & Russell Moore will be our guest speakers. @drmoore
AT MLK/50 MOORE HAD ATTEMPTED TO BROADEN THE RACIAL DIVIDE WITH THE FOLLOWING ACCUSATION OF "JIM CROW WORSHIP".
"Russell Moore at MLK50: 'Many Often Chose to Serve Jim Crow and to Rename Him Jesus Christ"

The Gospel Coalition@TGC"Time and time again in the white American Bible Belt the people of God had to choose between Jesus Christ and Jim Crow. And tragically many often chose to serve Jim Crow and to rename him Jesus Christ." —@DrMoore#MLK50Conference
BAPTIST PRESS ON THE EVENT "SHRINK THE DIVIDE"
" Shrink the Divide — a July 24 gathering for racial reconciliation — was sponsored by The Pledge Group, encompassing Mobile-area pastors who are seeking "to unify the body of Christ and our communities across ethnic and denominational lines, realizing that racism is a heart/sin problem and only the gospel will bring about such unity."
"Ed Litton, pastor of Redemption Church in Saraland, Ala., was one of the event organizers. "We could not be more excited and satisfied with this event," he told The Alabama Baptist. "Our response from those who want to join us in practical ways of shrinking the divide was overwhelming."
Litton looks to have found no problem with pushing the divide over social justice by holding the event with divisive Russell Moore ironically named "Shrinking " it. This was 2018 as the false accusations of radical racism against Evangelicals led Russell Moore to make the slanderous "Worshipping Jim Crow as Jesus " statement against his fellow Baptist as well as the broader evangelical community.
MORE FROM BAPTIST PRESS ON THE EVENT
" Keynote speakers Russell Moore, president of the Southern Baptist Ethics & Religious Liberty Commission, and John M. Perkins, a minister, civil rights activist, Bible teacher and author, focused on the Gospel and authentic Christianity.
Moore, who along with Perkins received a standing ovation when he entered the stage, told the crowd "that once you are in the family of God, you are a joint heir with Jesus Christ."
"If you have really been brought in by this Gospel, then that's going to change the way you see things, including the way you see yourself in relation to other people," Moore said.
Issues involving reconciliation "could not be more relevant in the kind of American society that we are in right now that is riddled with division, riddled with racism, riddled with injustice, riddled often with hatred for one another and often infected with a kind of racism and racial animosity that is more subtle than it would have been at other points in American history which means that it is even more dangerous," Moore said, while acknowledging, "What God has called you to do is going to take time."
Perkins described the situation as a crisis of belief and owning sin.
"Our crisis is in not understanding authentic Christianity," he said. "Sin is a rebellion against God and all sin in the end becomes your own. That's a problem. The problem is that we don't own our sin. And so we don't believe. We don't own our sin and so we can't forgive. And even now we use our sin as a weapon. I won't commit to you because you hurt me so bad and you might hurt me again. The problem is a crisis of belief."
The church must call the world "into a relationship with Jesus Christ and each other," Perkins said. "And the Christian life must be the outward [manifestation] of the image of Christ.""
LITTONS REPRESENTAITON OF THE RACE ISSUE
"Litton, also speaking at the press conference, added that understanding the Gospel is vital."
"But the problem is we see a church that is more polarized than the unchurched…. [T]he church holds certain doctrinal beliefs, and we're not questioning those, but it's how we apply them," he said. "We've got to return to the basics of seeing another person as made in the image of God, which means they have value and worth and that their skin color is in the beauty of what God made them to be and we accept that person and love that person, and it doesn't matter if you vote like me, think like me or look like me, but that God placed you here, and I honor you because God made you."
"Members of The Pledge Group have been working on relationships and getting to know one another for nearly four years."
DESPITE CAUSING SIGNIFICANT DIVISION MOORE AND LITTON WENT FULL SPEED AHEAD WITH THEIR RACIAL ACCUSATIONS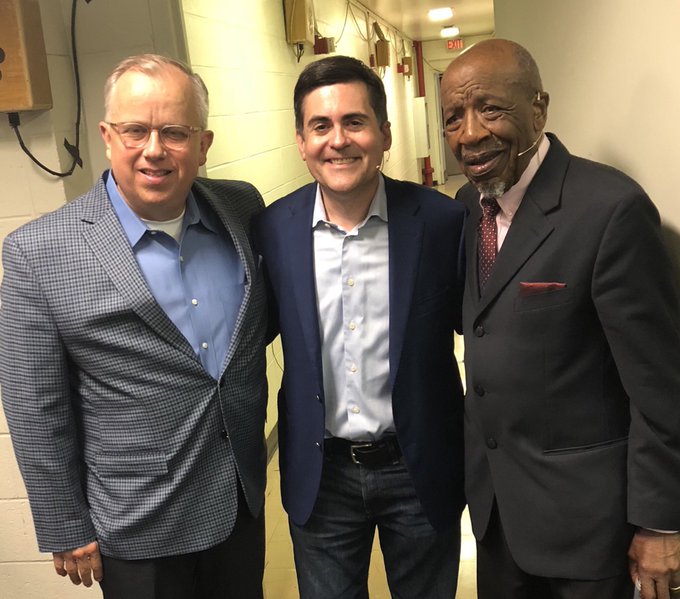 Russell Moore@drmooreHere with @EdLitton and Dr. John Perkins, about to speak on race and the gospel here at the Mobile, Alabama, Civic Center.
FASTFORWARD TO 2021 AND MOORE IS SLINGING HATE FROM OUTSIDE
Russell Moore looks to have helped some in the SBC achieved a massive coup by playing the race card against fellow Baptist. A "Whistleblower" /former staffer did a series of "leaked emails" seemingly on Moore's behalf to animate the fresh accusations against Baptist of racism and sex abuse/ coverups.
Weaponizing race and gender is the top menu item for progressives and their press outlets like Washington Post and New York Times where Moore has "Friends" in the editorial departments. Interfaith liberal Religion News Service also helped animate the organized Moore accusation political effort.
From Capstone Report
BREAKING: Russell Moore attacks sex abuse survivor in letter 'leaked' to Leftist media.
Russell Moore implies SBC is filled with racists, does not name any names.
"Russell Moore's best pals are Leftists in the mainstream press.
You can tell a lot about a man by his friends. You know, Evil company corrupting good morals and all.
You can also tell a lot about a man by those he determines to be enemies. And Russell Moore's letter shows his enemies list to be filled with conservatives.
In typical, SBC Elite fashion, Dr. Moore does not name names—he makes broad accusations of racism, misogyny and ignoring sexual abuse. And instead of pointing out the culprits, he tries to tarnish the entire Southern Baptist Convention with his slander and innuendo."
CONCLUSION
Moore and his pals like Ed Litton have now ridden the race card to the top of evangelical power- Litton within the Baptist denomination and Moore from his new role as martyr "attempting to save Baptist from their racial and abuses selves" with the aid of a hateful secular press while the Truth of the Gospel lies fallen in the streets in their wake lies and accusation.
JUST A REMINDER OF WHAT THE GOSPEL REALLY IS
COLLOSIANS 3:
8 "But now you yourselves are to put off all these: anger, wrath, malice, blasphemy, filthy language out of your mouth. 9 Do not lie to one another, since you have put off the old man with his deeds, 10 and have put on the new man who is renewed in knowledge according to the image of Him who created him, 11 where there is neither Greek nor Jew, circumcised nor uncircumcised, barbarian, Scythian, slave nor free, but Christ is all and in all."
Character of the New Man
12 "Therefore, as the elect of God, holy and beloved, put on tender mercies, kindness, humility, meekness, longsuffering; 13 bearing with one another, and forgiving one another, if anyone has a complaint against another; even as Christ forgave you, so you also must do. 14 But above all these things put on love, which is the bond of perfection. 15 And let the peace of God rule in your hearts, to which also you were called in one body; and be thankful. 16 Let the word of Christ dwell in you richly in all wisdom, teaching and admonishing one another in psalms and hymns and spiritual songs, singing with grace in your hearts to the Lord. 17 And whatever you do in word or deed, do all in the name of the Lord Jesus, giving thanks to God the Father through Him."