Operating by FUNDING partners like Democracy Fund , Templeton Foundation and Soros funded partners in Immigration politics -Trinity Forum is helping launch a new series called : "TOWARDS A BETTER CHRISTIAN POLITICS: AN EVENING CONVERSATION WITH CURTIS CHANG, DAVID FRENCH, AND RUSSELL MOORE" in order to further promote third way political compromise among American Christians. Complete with a former Rockefeller Fellow/ Bio Logos thought leader who promoted pandemic politics to the Church- this latest fools errand may be the "bridge too far" that will collapse a grand deception.
( https://democracyfund.org/who-we-are/ Democracy Fund is solely funded by Pierre Omidyar, Ebay Founder)
Rev Thomas Littleton
3/2/2023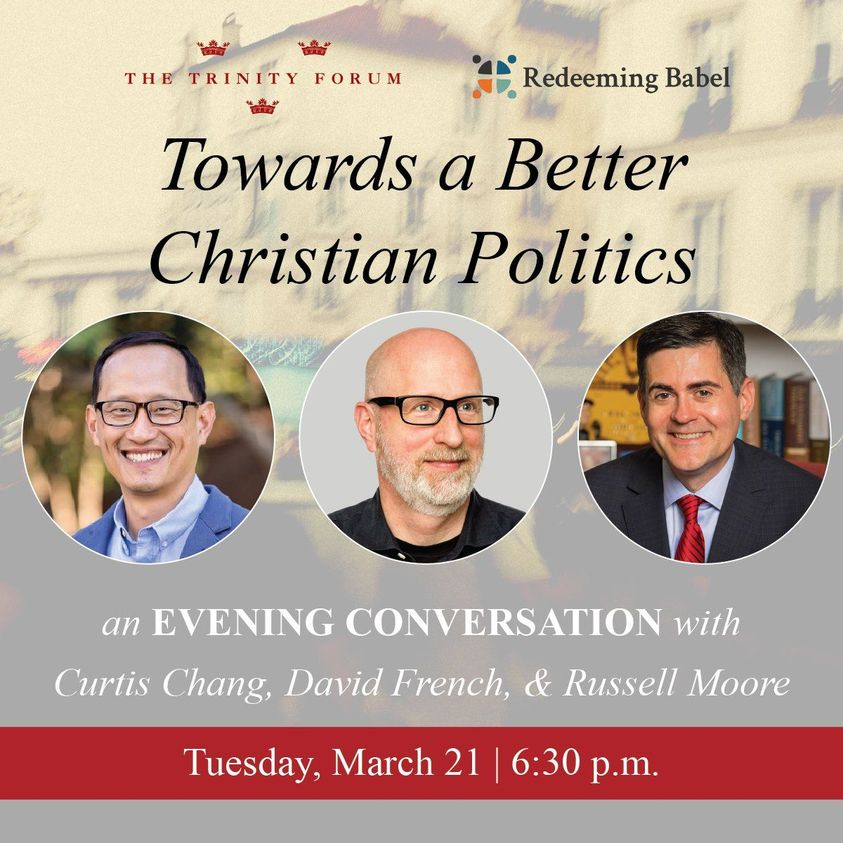 FROM THE TRINITY FORUM ANNOUNCEMENT
"The relentless pull and pressure of partisan antagonisms and tribalism have fractured friendships, families, communities — and churches. In a time of conflict over what is good and confusion over what is true, what can church leaders do to cultivate a more faithful form of civic engagement? How can we learn to discern the call to love and justice amidst the clamor of political wars?"
"In March, we're inviting three incisive speakers to address this question. Curtis Chang, David French, and Russell Moore are each writers, scholars, and thinkers who have made courageous and insightful contributions towards a better Christian politics."
"In partnership with Redeeming Babel, The Trinity Forum invites you to join us for an Evening Conversation at the National Press Club on Tuesday, March 21st from 6:30 – 8:30 pm with Curtis, David, and Russell to explore the challenges faced by church leaders and to discuss how communities of faith can cultivate, articulate, and embody a deeply faithful pursuit of justice for the common good. The conversation will also touch on their collaboration toward this end through a new Redeeming Babel project, The After Party: Towards Better Christian Politics.The evening will begin with drinks and appetizers, followed by remarks and discussion and a time for audience questions."
HOW IS THE CHURCH -WHICH IS CALLED OUT -CALLED TO "REDEEM BABEL" ?
God called Abram OUT of the idolatrous Babylonian world around him and Israel OUT of Egypt to "serve Him " apart from the corruption and idols around them. God used men like Joseph and Daniel to preserve His people in the midst of worldly systems BUT NOT to redeem those fallen systems. The Gospel call has not changed. Jesus called the disciples out -to FOLLOW HIM . As the judgements of the final day on the corrupt systems of Babel unfold in Revelation 18 -God again pauses and calls His people OUT.
Before reading further keep in mind that the very meaning of the word Ekklesia as the church is a calling OUT in order to be separated to God . God's people are His peculiar possession loyal only to Him in a world that remains under the sway of the wicked one and in the ongoing rebellion of Genesis 11. The disunity the World experiences is in large part because of its rebellion against and defiance of God. The Church does not reconcile the world to God by joining in alliance with, adopting its values, seeking to appease its standards and norms and to "redeem" "it. The truly redeemed have been called OUT of this darkness and into the Kingdom of LIGHT- the kingdom of His dear SON. The Christians citizenship is in heaven and his/her place in this world is as salt and light and as a witness to the redemption of God for lost souls. God is not "Redeeming Babel " nor is he calling His people to do so. Third Way political rhetoric and socialist ideologies, economics, and strategies would never be God's way nor have they ever worked to preserve of redeem any culture of society. To think so is to be deceived. To teach Christians thus is a grand deception.
TONY BLAIRS THIRD WAY POLITICS PAMPLET FROM THE FABIAN SOCIETY IN 1998 ALLOWS HIM IN HIS OWN WORDS TO EXTOL THE GOALS AND ORIGINS OF THIRD WAY POLITICS LIKE TRINITY FORUM AND "REDEEMING BABEL PROMOTE:
"The Third Way was published as a pamphlet by the Fabian Society. Blair owed much of his approach to the writings of Anthony Giddens, the sociologist and director of the London School of Economics, who published Beyond Left and Right in 1994 and then his The Third Way: The Renewal of Social Democracy in 1998. Giddens is now a member of the House of Lords. For his thinking on the 'Big Society', Blair drew on the work of the Scottish philosopher John Macmurray, author of Persons in Relation. Blair was not the inventor of the 'third way' concept, a term also used by the Austrian Marxist, Otto Bauer, for whom the 'third way' was between Stalinist communism and traditional social democracy (and Chartist). Harold McMillan, Conservative prime minister between 1957 and 1963, in 1938 had published a book entitled The Middle Way, though this work in supporting a programme of nationalisation to support economic regeneration can be seen as to the left of Blair's 'third way'. The pamphlet does not reference any previous socialist writers, not even the early generation of revisionists such as Anthony Crosland. Blair does not refer to 'socialism' or 'socialists', preferring the term 'progressive centre-left' – a term which would incorporate most liberals."
"The 'Third Way' is to my mind the best label for the new politics which the progressive centre-left is forging in Britain and beyond. The Third Way stands for a modernised social democracy, passionate in its commitment to social justice and the goals of the centre-left, but flexible, innovative and forward-looking in the means to achieve them. It is founded on the values which have guided progressive politics for more than a century – democracy, liberty, justice, mutual obligation and internationalism. But it is a third way because it moves decisively beyond an Old Left preoccupied by state control, high taxation and producer interests and a New Right treating public investment, and often the very notions of 'society' and collective endeavour, as evils to be undone."
"My vision for the 21st century is of a popular politics reconciling themes which in the past have wrongly been regarded as antagonistic – patriotism and internationalism; rights and responsibilities; the promotion of enterprise and the attack on poverty and discrimination. The Left should be proud of its achievements in the 20th century not least universal suffrage, a fairer sharing of taxation and growth, and greater improvement in working conditions and in welfare, health and educational services. But we still have far to go to build the open, fair and prosperous society to which we aspire."
"The Third Way is not an attempt to split the difference between Right and Left. It is about traditional values in a changed world. And it draws vitality from using the two great streams of left-of-centre thought – democratic socialism and liberals – whose divorce this century did so much to weaken progressive politics across the West. Liberals asserted the primacy of individual liberty in the market economy; social democrats promoted social justice with the state as its main agent. There is necessary conflict between the two, accepting as we now do that state power is one means to achieve our goals, but not the only one and emphatically not an end in itself." https://www.chartist.org.uk/tony-blair-the-third-way-1998/
THE NARRATIVE OF THOSE WHO WANT TO "REDEEM BABEL"
Clarity in in a confusing World
"Christians are called to serve as signposts to the coming Kingdom of God, when Jesus will finally repair all brokenness. In a culture afflicted by division and confusion–a condition depicted by the story of Babel in Genesis 11:1-9–Redeeming Babel equips Christians to navigate the chaos with timeless Biblical truths."
NOTE – Redeeming Babel has missed that the "division " wrought at the Tower of Babel was God's doing and that GOD scattered and confounded their false "unity" which sought to defy HIM. It is not "culture " that has brought division of which they speak but God Himself and the very biblical conviction that they seek to undermine. Ancient Babel of Genesis 11 fell as the present and future Babel is Rev 18 is DOOMED . GOD HAS NOT CALLED OR COMMISSIONED ANYONE TO REDEEM IT-LEAST OF ALL WITH FABIAN SOCIALISM in the hands of Evangelical voices out of the far left who seek to destroy the Faith.
RETREADING LSE /FABIAN SOCIALIST THIRD WAY IS NOT PROVIDING CLARITY BUT MOCKING THE CLARITY OF THE BIBLICAL CALL TO BE SALT AND LIGHT.
THE BIBLICAL REMINDER TO BELEIVERS IS THAT WE CANNOT SERVE TWO MASTERS AND ARE EITHER FOR OUR MASTER THE LORD JESUS OR AGAINST HIM".
"THE PROBLEM"-ACCORDING TO REDEEMING BABEL
"Evangelicals, which constitute 22.5% of the American population, comprise a key group in the political landscape. Unfortunately, for many evangelicals, the role of forming their political identity has been seized by partisan forces, not by true Biblical faith."
As a result, their politics have become deformed into hatred of political opponents, susceptibility to lies, and other practices that threaten the common good."
"Church leaders seeking to counter this dangerous trend need help. If pastors preach about politics from the pulpit, they risk blowback from the most vocal and extreme voices within their congregations. Many local leaders feel like they lack the resources to deal with the political complexities of the day. Political tensions have already fractured many churches. And 2024 is right around the corner with a new wave of pressure."
NOTE : THEIR CONCERN IS THE 2024 ELECTION – AGAIN THIS IS A POLITICAL -PROGRESSIVE MOVEMENT DRAFTED AND DRAPED IN THEOLOGICAL JARGON.
"REDEEMING BABEL" MISSION
About Redeeming Babel. Curtis Chang founded Redeeming Babel in 2019 to address three underlying theological problems driving the chaos and confusion of our current world. These three problems damage Christians in their interior, institutional, and societal selves
: a mistaken spirituality of anxiety (interior)
:A missing theology of organizations ( institutional )
: a misshapen approach to politics ( societal )
THE PLAYERS AND THEIR BIOS
"David French is a columnist at The New York Times. He's the author most recently of Divided We Fall: America's Secession Threat and How to Restore Our Nation."
FRENCH WIFE SERVES ON THE REDEEMING BABEL TEAM
"Nancy French"
"Director of Communications"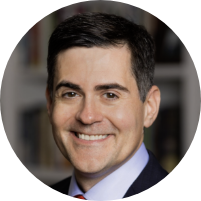 "Russell Moore is editor in chief and Director of Christianity Today's Public Theology Project. He's the author of Onward: Engaging the Culture without Losing the Gospel and The Courage to Stand: Facing Your Fear without Losing Your Soul. You can learn more by visiting his web page."
"Curtis Chang is a professor at Duke Divinity School and Senior Fellow at Fuller Theological Seminary. He's the author of the upcoming book, The Anxiety Opportunity: How Worry Is the Doorway to Your Best Self. You can learn more by visiting our About page."
MORE ON CHANG INCLUDING HIS OBAMA WHITEHOUSE AND ACADEMIC CREDENTIALS
"Curtis has won national recognition from the Obama White House for innovative work in the social sector. He is on the faculty of the School of International Service at American University (Washington DC), where he teaches graduate level courses on strategy and planning. He also is a consulting faculty member at Duke Divinity School."
"Curtis is the founding Executive Director of Redeeming Babel, a nonprofit that produces content to promote a reformation in how Christians engage the wider world. He also co-hosts (with David French) the Good Faith podcast where they discuss how Christian faith intersects with culture, law, and politics. His Biblical insights are enriched by his own secular career, which includes founding a White House award winning nonprofit consulting firm and teaching strategic planning as a faculty at American University's School of International Service. Curtis graduated from Harvard University and is a former Rockefeller Fellow.
TIM KELLERS FAITH AND WORKS SOCIALIST ECONOMICS INSTRUCTOR IS ALSO ON THE BOARD OF REDEEMING BABEL
THE GRANDER SCHEME COMES COMPLETE WITH CURRICULUM TRAINING AND VIDEOS
"Join host Curtis Chang and his friends as they follow Jesus and make sense of the world. With expertise, thoughtfulness, and humor, they discuss how Christian faith intersects with culture, politics, work, entertainment, and other aspects of life. Good Faith is ranked in the top .5 percent of all podcasts."
AN EARLY PODCAST FROM 2021
Evangelical Politics: Theology or Sociology?
December 11, 2021
"In a follow up to last week's Deconstructing Faith episode, David French and Curtis Chang dive into the sometimes murky and contradictory political views of Christians. All too frequently, the political stances we think are biblical are actually just cultural. "
ALSO -Redeeming" Babel is promoting- among other things developing a "Theology of Institutions"
We really need to rethink our relationships with institutions. In this clip, @DavidAFrenchand I discuss. Watch the whole #GoodFaith podcast here: https://redeemingbabel.org/what-the-next-generation-of-christians-needs-with-david-french/
@AEI recently announced the inaugural cohort of Civic Renewal Fellowship participants. I am thrilled to see
@aryana_petrosky, our manager of partnerships and projects at Redeeming Babel, made this esteemed list.
HOW YOU CAN HELP
"The After Party curriculum depends on partners to distribute the curriculum. Our growing collection of partners include:
Christianity Today
Council for Christian Colleges and Universities (CCCU)
Matthew 5:9 Fellowship (One America Movement)
The Trinity Forum
Undivided"
"We also need your help with distribution. If The After Party could help your church, your school, your network, your family, sign up here and you'll be the first to know when it's available. In the meantime, please join our larger conversation around this message by listening to Curtis Chang talk to his friends (including regular guest David French) about the spiritual and cultural climate of the world today on Good Faith podcast."
CHANG AND FRENCH BEFORE A CCCU AUDIENCE IN FEBRUARY 2023
"You can go through negative characteristics: brainwashed, bigoted, racist, you name it."
"And overwhelming majorities of American partisans are fully bought in on this. So there's even something now called lethal mass partisanship, which is the belief that the world would be better off if a significant percentage of your political opponents just died. "
"And about 20% of American adults believe that, including many Christians."
CHANG AND FRENCH HAVE HOSTED JUSTIN GIBONEY RADICAL & CAMPAIGN CO-FOUNDER AND DEMOCRATIC PARTY/OBAMA FOUNDATION INSPIRED ORGANIZATION
What Can the Black Church Teach All of Us? (with Justin Giboney)
February 25, 2023
"Rev. Justin Giboney and host Curtis Chang discuss how the Black church provides insight on the limitations of the progressive/conservative labels for all of us. Justin and Curtis also share candidly from their own experiences, giving everyone an intimate window into the complexities of racial identity and faith. "
ON "NEGATIVE PARTISANSHIP" CHANG AND FRENCH ASSERT:
( NOTE- THIS IS CLASSIC THIRD WAY APPROACH AND NARRATIVE )
"What is negative partisanship? Negative partisanship is an affiliation with your partisan political tribe, not because you necessarily love it or the ideas that it espouses, but because you hate or fear the other side."
"So it's rooted in a deeply negative emotion. And this is an extraordinarily powerful influence right now in the United States of America. How powerful is it? If you go and look at some of the research done by a group called More in Common, which has looked at what is called the hidden tribes of American life, it looks at the people who are most animated by the strongest partisan motivations. They have incredibly, profoundly negative views of the other side. Very negative views: 89%, for example, of devoted conservatives who are disproportionately Christian viewed every Democrat as brainwashed. That's just one statistic of many."
OUR HOPE
"We need to reform the political mindset of Christians with timeless Biblical truths, and not cede this task to today's secular and partisan media. There's hope. It's not too late. We can transform our political imaginations. God has called us to point to the Kingdom of Jesus which transcends the divisions of our day. Indeed, the future Kingdom – which Scripture depicts as a grand "wedding feast of the Lamb" (Rev. 19:6-9) – is the true hope that should unite Christians of all political stripes."
"It's time for us to go beyond party politics, and – as Christians – believe in the true "party" yet to come."
THE BACKGROUND ON REDEEMING BABEL VAX PUSH IN 2021
Christians & the Vaccine was the leading national effort to persuade this community to consider receiving he COVID vaccine. We partnered with the National Association of Evangelicals, COVID Collaborative, the Ad Council, Values Partnerships and Public Square Strategies.
We produced videos to provide Biblically based answers to questions such as:
THE CONCLUSION
Trinity Forum is widely respected but well infiltrated organization given its history with the "Evangelical Immigration Table"/ The Obama Foundation's Ambassador the America's Believers Michael Wear and the long time contributions of defrocked former SBC ethicist Russell Moore.
Redeeming Babel must have missed that Babel is clearly condemned to fall and NOT BE REDEEMED in the Scripture and the organization seems to have fallen in with the "Good Faith"/ Common Ground / Civil Society narratives that have been falling flat for years on both sides of the political divide which they seem to think THEY can BRIDGE with the same failed technologies and ideologies.
The Fall of Babylon the Great
18 "After these things I saw another angel coming down from heaven, having great authority, and the earth was illuminated with his glory. 2 And he cried [a]mightily with a loud voice, saying, "Babylon the great is fallen, is fallen, and has become a dwelling place of demons, a prison for every foul spirit, and a cage for every unclean and hated bird! 3 For all the nations have drunk of the wine of the wrath of her fornication, the kings of the earth have committed fornication with her, and the merchants of the earth have become rich through the [b]abundance of her luxury."
4 And I heard another voice from heaven saying, "Come out of her, my people, lest you share in her sins, and lest you receive of her plagues. 5 For her sins [c]have reached to heaven, and God has remembered her iniquities. 6 Render to her just as she rendered [d]to you, and repay her double according to her works; in the cup which she has mixed, mix double for her. 7 In the measure that she glorified herself and lived [e]luxuriously, in the same measure give her torment and sorrow; for she says in her heart, 'I sit as queen, and am no widow, and will not see sorrow.'"