DURING THE RISE OF 2018 REVOICE SCANDAL SAM ALLBERRY AND LIVING OUT PROMOTED REVOICE AND THEIR OWN " LGBTQ INCLUSION AUDIT FOR CHURCHES DEMANDING STRAIGHT PARENTS "SHARE THEIR CHILDREN " WITH THOSE WHO IDENTIFY AS LGBTQ IN THE CHURCH. NOW THEY TARGET CHILDREN DIRECTLY WITH NEW OUTREACH.
Rev Thomas Littleton
2/3/2022
No strangers to being edgy, controversial , and arrogant- Living Out the UK ministry founded by Sam Allberry , Ed Shaw and other self identified gay priest -pushes forward with an outreach aimed directly at the faith of children with the "Living Out " LGBTQ SOGI message.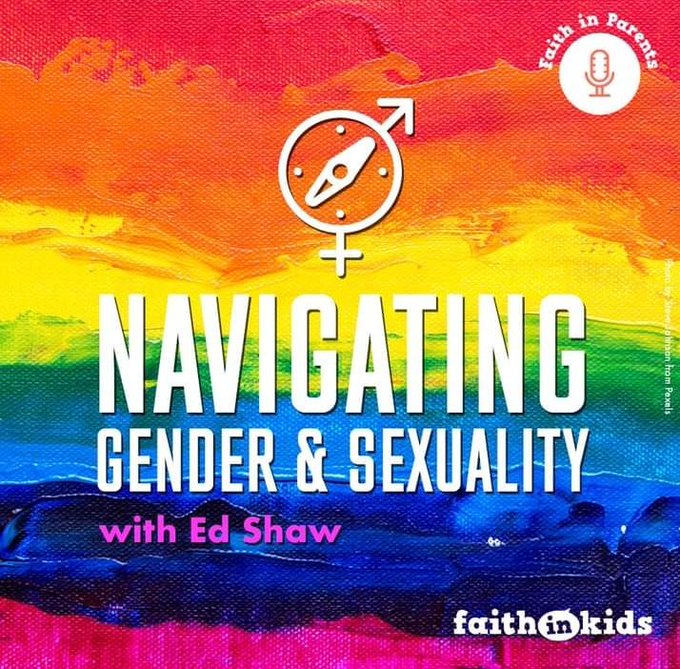 "Time to tackle it! I think this is a great start. Expect lots more from us in this area. Feedback is always welcome."
DETAILS ON THE EVENT ARE PROVIDED BY "FAITH IN KIDS" A MINISTRY WORKING SINCE AT LEAST 2015 TO "EQUIP THOSE WHO MINISTER TO KIDS" IN OUR CHURCHES.
Listen on Apple Podcasts
"While everyone else is talking sex, sexuality and gender, how do we navigate these thorny topics? Ed Shaw (Living Out) helps us to show our children the better story (as well as explaining how he has grown out of his support for Richard 3rd and the Conservative party, but is still a Christian and is still same sex attracted)"
People:
Ed Drew – Director of Faith in Kids
Amy Smith – Writer for Faith in Kids
"Ed Shaw – is the pastor of Emmanuel City Centre in Bristol, England, and part of the editorial team at Living Out. He loves his family and friends, church and city, gin and tonic, and music and books."
Books named in the podcast:
The Plausibility Problem – Ed Shaw
Purposeful Sexuality – Ed Shaw
The Sex Thing – Rachel Gardner
Books by Patricia Weerakoon:
Birds and Bees by the book (for parents of under 8's) – NB: currently unavailable in the UK.
Growing up by the book (for 10-14s)
Talking sex by the book (for parents of toddlers to teens)
Teen sex by the book (for 15-18s)
God's Design for Sex Series:
Book 1: The Story of Me, Babies, Bodies, and a Very Good God – Stan Jones, Brenna Jones (Ages 3-5)
Book 2: Before I was Born, God Knew my Name – Carolyn Nystrom (Ages 5-8)
Book 3: What's the Big Deal? Why God Cares About Sex – Stan Jones, Brenna Jones (Ages 8-12)
"Parents Guide: How & When to Tell Your Kids About Sex, A Lifelong Approach to Shaping Your Child's Sexual Character – Stan Jones, Brenna Jones (For Parents)"
Support the show (http://www.faithinkids.org)
"These podcasts are only possible because of the faithful generosity of our supporters and listeners. Faith in Kids exists because people like you give generously. If you've enjoyed listening, you share our passion for the Gospel to be shared with children and for them to be raised in faith. Will you support us financially? For the cost of a cup of coffee per month, you could enable Faith in Kids to reach more parents, churches, and ultimately, children for Christ. Click here.  (http://Faithinkids.org and select 'donate' or go to Stewardship)"
THE PROBLEM WITH ALLBERRY, SHAW/ LIVING OUT ADN WHY THEY ARE NOT "TRUSTED SOURCES" FOR CHURCHES,FAMILES, KIDS.
Living Out has remained since it first appeared around 2013 as part of the Church of England's "Two year conversations " to move the church toward embracing the coming (at the time) legalization of gay marriage by the UK Parliament. These organized and orchestrated "Conversations " were led and organized and promoted nationally by former Health Minister Sir Joseph Pilling.
https://www.churchofengland.org/news-and-media/news-and-statements/pilling-report-published
Living Out with a herd of gay identified activist priest like Allberry and Shaw were soon making the rounds to sell the talking points of compliance via a massive national "Social Change" effort which resulted in Allberry's best selling book "Is God Anti Gay " and a website full of testimonies, conversations, articles , videos and "resources" all claiming to be from the conservative and biblically orthodox side of the conversations due to its sole reliance on "Celibacy" and the new change agent language of "Same Sex Attracted ". SSA language was drafted by the interfaith work of the APA and the international human rights organizations with evangelical partners like the 2010 Lausanne Movements global cabal. Allberry admitted to this writer in 2013 that the SSA language was an alternative term to the word "gay " or "gay Christian" . So SSA is an admitted alternative way to self identify as a gay Christian without causing controversy.
Celibate but still LGBTQ identified was then touted deep commitment to "biblical sexual ethic" while still promoting Sexual Orientation and Gender Identity or SOGI talking points of the psychological and global human rights change agents. The " SSA embracing and committing to celibacy " stance developed a "Side B " alternative position to the "Side A " Fully Affirming LGBTQ Christianity which has completely disabled entire denominations like the Presbyterian Church and many others is America from presenting clarity on and condemning the social change efforts in their midst.
SSA but Celibate is the modern version of the "non practicing homosexual" narrative used in mainline churches like the COE/Episcopal, Methodist , Lutheran etc. a generation ago which ending in the inclusion, membership, marriage and ordination of LGBTQ identified and split many movements and denominations repeatedly since that time. SSA or Non Practicing is certainly not long term sustainable position nor is inclusion and ordination a successful growth strategy for any church or movement. History bears this out 100%.
TIM KELLER THE LAUSANNE SNAKE OIL SALESMAN –ALLBERRY'S AMERICAN AGENT
Tim Keller before 2010 was a relatively unknown pastor in New York City who had become the darling of other Lausanne affiliates like Ed Stetzer and Christianity Today. Keller had been promoted from a small pulpit in VA to plant a "flagship church " for the conservative but going progressive Presbyterian Church in America. Keller had formed The Gospel Coalition around 2006 with D A Carson and it became the leading edge of the progressive political change efforts in American evangelicalism. In 2010 Keller and Carson adopted an APA interfaith Whitepaper on Sexual Orientation and Gender Identity from the APA most valued workman in the development of religious narratives on SOGI. This paper became the Gold Standard from which these progressive efforts would be based. Lausanne Movement where Keller was the keynote speaker in 2010 adopted a similar set of 5 whitepapers with the same SOGI/ SSA narrative and language.
SAM ALLLBERRY ADN LIVINNG OUT
WHERE DOES ALLBERRY COME IN?
Once the conversation was in full swing in the UK ordered by the UK government to make its state church compliant with the coming legalization of gay marriage , Allberry's Living Out and book were introduced tot eh American church via his book and multiple conference appearances in the states. These would lead to Allberry becoming a TGC editor on all things LGBTQ. Living Out resources were being used as other resources and conversation guides were appearing at the same time from HRC and other openly left and pro LGBTQ organizations.
Mark Yarhouse , the APA interfaith narrative developer who wrote the Whitepaper for TGC also became a key figure in the work of Living Out .At the same time another less known but emerging figure Nate Collins reviewed and promoted Sam Allberrys book for TGC.
NOTE Nate Collins was working at this same time to help collapse the "ex gay ministry" Exodus International which were set efforts of ministries to help people out of homosexuality on a collision course with their own demise as discriminatory , "harmful especially to LGBTQ youth" and demands for all so called "reparative therapies " to be outlawed. Collins was a Student at the Southern Baptist flagship seminary SBTS under Albert Mohler and Russell Moore who had just ascended to the head of the Baptist Ethics and Religious Liberties Commission pushing a rabidly progressive message. By 2018 Collins was teaching New Testament at SBTS for Albert Mohler while launching the radical and divisive pro LGBT+ Flourishing in the church movement called "REVOICE".
So Collins is about to become a front page operative once Sam Allberry and Living Out promoted their upcoming London Conference with Tim and Kathy Keller in June of 2018 and "for our American audience – Revoice (Nate Collins) LGBT+ Thriving in the Church. This is also the same meeting were Allberry and Living Out ,with the help of Kathy Keller, introduced their LGBTQ Church Inclusion Audit which Ms Keller affirmed to be "brilliant " and that she was "taking it straight back to their church in New York" to be put into use.
So again -in 2013 Living Out surfaces as part of the UK State Church compliance effort and Allberry publishes his book which Keller's TGC with the help of the future founder of Revoice and present participate work with Exodus the Ex Gay ministry collapsing- promotes Allberry and his new book to American Evangelicals.
TGC / CHRISTIAN LIVING
Is God Anti-Gay?
JULY 15, 2013 | NATE COLLINS
" In this brief but important book, Is God Anti-Gay? And Other Questions about Homosexuality, the Bible, and Same-Sex Attraction, Sam Allberry combines pastoral wisdom, authentic autobiography, and sound exegesis to provide Christians with a helpful introduction to the topic of homosexuality."
"From the first few pages, it's clear the greatest strength of the book is its simple readability. Despite the complexity of the subject matter, Allberry, associate pastor of St. Mary's Church in Maidenhead, England, distills the most important points of his discussion into five short chapters. Together with an autobiographical introduction and conclusion, these chapters provide a wise way forward for Christians to be a faithful and compassionate witness to the gospel in our society. …" Nate Collins (read remainder at TGC )
KELLER'S TGC PALS ALBERT MOHLER AND RUSSELL MOORE LAUNCH ALLBERRY STATESIDE VIA ERLC CONFERENCE IN 2014
By 2014 Southern Baptist new "Ethics " progressive Russell Moore placed Sam Allberry into Orbit by having him and an American herd of self identified SSA/ Gay activist like Rosaria Butterfield , Jackie Hill Perry and close to a dozen others speaking at his ERLC Conference on "The Gospel ,Homosexuality" and The Future of Marriage". Few knew what was coming in the US regarding the law , the Supreme Court and Gay Marriage in less than a year but clearly some of these evangelical leaders did. Just like in the UK the church needed to be led into compliance with the coming laws of the land.
In this conference Albert Mohler, who was both Collins boss at SBTS and Moore's former boss who had promoted him into the ERLC position. confessed to and APOLOGIZED for being "Wrong about Sexual Orientation and having denied it's existence. This placed one of the leading ,highly regarded theologians in America in lockstep with the APA, Mark Yarhouse interfaith SOGI narrative, TGC Whitepaper by Yarhouse, Lausanne and Kellers 5 Whitepaers, the UK Parliament , Sam Allberry/ Living Out , His own SBTS rising star in the LGBTQ narrative Nate Collins, his activist head of the ERLC ,Russell Moore ….AND the coming Obergefell Supreme Court decision.
WHO KNEW ?
SOMEONE CERTAINLY DID AND COMMITTED TO THE CONVERSATIONAL DIALOG TO MOVE THE CHURCH TOWARD COMPLIANCE EVENTHOUGH- IN AMERICA THE CHURCH IS NOT A STATE CHURCH…WE RECEIVED THE SAME MESSENGE AND SOME OF THE SAME MESSENGERS OF THE UNITED KINGDOM LIKE SAM ALLBERRY.
MORE ON LIVING OUTS NEW CHILDREN FOCUED EFFORT AND PARTNERS
FAITH IN KIDS

"Too often churches are losing the hearts and minds of our children. Too many of the children who attend church grow up knowing Bible facts and a long list of Christian behaviours but without a love for Jesus Christ. Faith in Kids wants to see more children engaging with and responding to God personally. Children who are having their hearts and minds informed by Christ's words, by God's grace, will grow into teenagers who want to live for Him."
"Faith in Kids focuses on those who lead the children's ministry in their local Church. We want to build their confidence and grow their vision to see how vital their role is. These key individuals, in turn, can then be a catalyst for change in countless children's lives through Sunday School leaders, parents and church leaders. "
"The purpose of Faith in Kids is to resource, equip and support those who oversee the children's ministry in their local church, because they can reach countless Sunday School leaders, parents and church leaders.We also encourage and equip parents to open the Bible and speak about faith in Christ with their children at home."
Faith in Kids resources with materials that build skills in leaders and build love for Christ in children.
Faith in Kids resources leaders and parents with Bible-based materials that are easy to use and that encourage children to grow in their love for God.
Faith in Kids equips leaders with events and training materials that build skills and confidence. We run family activity weekends to help parents open the Bible with their children.
Faith in Kids encourages leaders and parents to persevere in teaching the Bible to children with regular updates, blogs and visits."
FAITH AND KIDS WITH LIVING OUT AND THE SOGI /LGBTQ CONVERSATION
"Time to tackle it! I think this is a great start. Expect lots more from us in this area. Feedback is always welcome."
"While everyone else is talking sex, sexuality and gender, how do we navigate these thorny topics? Ed Shaw (Living Out) helps us to show our children the better story (as well as explaining how he has grown out of his support for Richard 3rd and the Conservative party, but is still a Christian and is still same sex attracted)"
SOME OF THE BOOKS USED IN THE FAITH IN KIDS/ LIVING OUT EFFORT
"PLAUSIBILITY PROBLEM
:THE CHURCH AND SAME SEX ATTRACTION "
"It's all very well to say that the Bible is clear when it talks about homosexuality. But is it realistic Isn't it unrealistic and unfair to those who struggle with this issue Doesn't it condemn them to loneliness, a lack of fulfilment and the loss of basic human satisfactions like sex and marriage Is what the church teaches a plausible way of life Ed Shaw experiences same-sex attraction, and yet he is committed to what the Bible says and what the church has always taught about marriage and sex. In this honest book, he shares his pain in dealing with these issues – but, at the same time, shows us that obedience to Jesus is ultimately the only way to experience life to the full. He shows that the Bible's teaching seems unreasonable not because of its difficulties, but because of missteps that the church has often taken in its understanding of the Christian life. We have been shaped by the world around us, and urgently need to re-examine the values that drive our discipleship. Only by doing this in the light of the Bible, can we make sense of its call on the lives of those who are attracted to their own sex. We have so often made Jesus' way sound like a bad deal. Only by reclaiming the reality of gospel discipleship, can we truly see and appreciate that life in Christ is the best way for any human life to be lived = whomever we are attracted to."
ALSO
PURPOSEFUL SEXUALITY
"If you're a human being, then you're a sexual being. But what is your sexuality for? That's a question we often struggle to answer because we find it so hard to talk about our powerful and personal sexual feelings – perhaps especially if we're Christians."
"Ed Shaw explores the Bible's deepest answers to this question in ways that will help everyone to appreciate and enjoy God's purposeful gift of sexuality – whatever your past history, current situation or sexual orientation might be."
ABOUT THE AUTHOR
"Ed Shaw is the bestselling, award-winning author of The Plausibility Problem: The Church and Same-sex Attraction (IVP UK), launched in the USA as Same-sex Attraction and the Church, where it was voted Gospel Coalition's Top Book in the Christian Living Category. Translations have appeared in Danish, Dutch, French, German, Italian, Portuguese and Spanish. Ed is Pastor of Emmanuel City Church, Bristol, and part of the editorial team at http://www.livingout.org."
"Member of the General Synod of the Church of England and a member of the Archbishops' Pastoral Advisory Group. As part of http://www.livingout.org, Ed has a growing national and international profile, having spoken on R4's Today programme and had articles and reviews published by Gospel Coalition. He has been part of Creation Fest, Keswick Convention, New Day, New Wine, Vineyard Leaders and Word Alive, and has done speaking tours in the US and Australia."
BOTH BOOKS ARE BY LIVING OUT'S ED SHAW ,SAM ALLBERRYS LONG TIME LIVING OUT CO-ACTIVIST
MORE ON SAM ALLBERRY/LIVING OUT EXPOSURE
CONSULT BRANNON HOWSE / WORLD VIEW WEEKEND
"ERLC AND RUSSELL MOORE ADVOCATE REDEFINING FAMILY AND PROMOTE GAY PRIEST WHO WANTS TO BABYSIT YOUR CHILDREN."
https://shop.worldviewweekend.com/news/article/erlc-and-russell-moore-advocate-redefining-family-and-promote-gay-priest-who-wants
"Trusted Church Denominations & Seminaries Producing LGBTQ Activists"
https://shop.worldviewweekend.com/news/article/trusted-church-denominations-seminaries-producing-lgbtq-activists
FOR MORE EXPOSURE OF SAM ALLBERRY IN THE UK CONSULT DR E S WILLIAMS VIDEO
thenewcalvinist1.06K subscribersSUBSCRIBE
Albert Mohler and the Gay Revolution
9,323 views Feb 4, 2020
"The purpose of this video is to evaluate the teaching of Dr Albert Mohler, president of the Southern Baptist Theological Seminary, on the subject of homosexuality. Mohler is encouraging the Church to embrace the issue of sexual orientation, a psychological concept that is entirely without biblical warrant. He accuses evangelicals of having lied about the nature of homosexuality and of practicing a form of homophobia. He fully supports the ministry of same-sex attracted Sam Allberry, a Church of England priest. His position is similar to that of the gay agenda, which seeks to normalize homosexuality in society and the Church."
AND CATHY MICKLES ARTICLE ON ES WILLIAMS WORK
https://www.lighthousetrailsresearch.com/blog/?p=31433
"Dr. Williams states, "As we shall see in this video, Mohler's position today is similar to that of the gay agenda, which seeks to normalize homosexuality." Williams also points out that in spite of a 2005 position held by Mohler declaring that the modern concept of sexual orientation opens the door for the homosexual lobby to reinterpret the meaning of Scripture, a decade later Mohler has changed his mind; we see a compromised man who radically changed his position. Similarly, the video shows that Mohler uses the language and tactics of the progressive left to accuse those who disagree by calling them "homophobic."
FAITH IN KIDS PROMISESS RELIABLE "CHRIST CENTERED RERSOURCES " FOR YOU ,YOUR CHURCH AND YOUR KIDS
"Faith in Kids was created out of a growing demand for trusted, Bible-based, Christ-centered resources. For many years we have been sharing resources to an increasing number of children's workers so we decided that it was time to do more! A growing team of children's workers and volunteers are working to develop both the website and its resources."
"We present Christ to children because he told his followers to let the children come to him. We want to do what he said!"
REALITY CHECK FOR FAITH IN KIDS AND UK PARENTS AND PASTORS
Living Out might be popular in the UK but it and Sam Allberry/ Ed Shaw's activism and dishonest shell games with the American Church have fully discredited them in the US. Allberry became a key speaker with and darling of the now disreputable and exposed perversions of Ravi Zacharias and his RZM ministry .Allberry and Shaw repeatedly changed and removed their posting and social media and even altered the horrific language of their LGBTQ Inclusion Church Audit. Allberry EVEN had to present himself and his Living Out web pages content up for public review BY The Gospel Coalition and one of its progressive leaders Jonathan Leeman and provide disclosure -even submitting Living Out to an audit of its own and removal and much of its content after 6 years. This took place after it was revealed by slow but awakened Baptist pastor who had been promoting Living Out and Allberry but happened to take the time to research its content. By 2019 Allberry and Living Out were discredited in most circles of American Evangelicalism with the exception of those who only cared for full affirmation of LGBTQ rights in the church no matter how much deception and manipulations were taking place. There are people like that who do "self identify" as Christians -even as biblically orthodox but this would be by their own metrics not Gods or his word.
CONCLUSION – MILLSTONES AWAIT AROUND THE TWISTED PATH FOR LIVING OUT AND FAITH IN KIDS AND ALL WHO OFFEND THESE LITTLE ONES .
For those like Living Out and their new partnership with Faith in Kids -Some of Jesus most stern warnings come for those who would harm or offend or pervert the faith of His little ones.
LUKE 17
Jesus Warns of Offenses
17 Then He said to the disciples, "It is impossible that no [a]offenses should come, but woe to him through whom they do come! 2 It would be better for him if a millstone were hung around his neck, and he were thrown into the sea, than that he should [b]offend one of these little ones."