I DO NOT OFFER MUCH PERSONAL COMMENTARY BUT DR LOPEZ STORY SHOWS ALL THE ELEMENTS OF WHAT IS WRONG WITH THE SBC AT THIS PLACE IN ITS HISTORY
Rev Thomas Littleton                                                                                         12/5/2019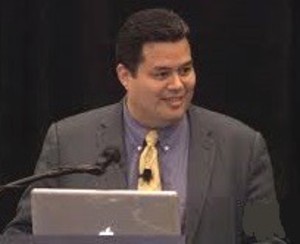 I have known Dr Robert Oscar Lopez for several years and we have worked together on projects , articles and several conferences. He has a powerful testimony of deliverance from homosexuality and from having been raised in a lesbian household in an  Ivy League ,achievement driven, family. Dr. Lopez is a writer, educator, thinker, speaks 8 languages and is Yale educated. He does not shy from the truth about his past or his conversion to faith in Jesus and has paid a price for standing up in secular academia for the Gospel . One such stand left him embattled and jobless in California. In the heat of this battle and aftermath Dr. Lopez was contacted and offered the chance to teach at SWBTS in Ft Worth by then President Paige Patterson who himself was destined to become the target of progressive forces in his own Southern Baptist Convention .
Once Paige Patterson was forced out of office at SWBTS in the Spring of 2018 Dr. Lopez and his closest friends all knew he was now in a perilous place with his employment. From all outside appearances it was the #MeToo movement and the secular press who "caught "Paige Patterson "covering up" a long history of abuse. But once the new administration for SWBTS came on line it was fairly clear that the power behind Patterson's removal was Albert Mohler as his "team", including Randy Stinson (who became SWBTS new Provost),  were moved into place to complete the Mohler machine take down and take over of the Ft Worth Seminary.
LIFE IN THE MOHLER CROSSHAIRS 
The day after Thanksgiving 2019 Dr. Lopez finally received "official notice" of his termination from SWBTS. Supposedly he was "laid off" because curriculum changes eliminated his position when in fact Mohler's people, including Stinson, had been targeting and intimidating Lopez for months. They called him into meeting after meeting with the Dean and the Provost – demanding he not do interviews or write on issues related to LGBTQ and his testimony without gaining permission from a new young staffer Colby Adams. who was also from the Mohler camp as Mohler's Producer for his program"The Briefing" producer.
Lopez is a prolific writer and commentator on cultural issues and academia so such restrictions were too vague, open ended, not put in writing and restrictive for Lopez to discern, comply and follow. Adams inability  to respond in a timely manner cost Dr. Lopez opportunity to speak to such concerns in national publications. Yet this expectation by the new Mohler leadership at SWBTS came with threats that Lopez writings and opinions  "would force them to fire you" and "if you are going to write that you will have to do it from somewhere else".
Mohler underling and SWBTS Provost  Randy Stinson personally slid resignation paperwork across his desk demanding Lopez resign. This was several months ago. Now that Dr. Lopez is going public, Stinson released a statement on the situation and why he and SWBTS insist Dr. Lopez was terminated. In the statement Stinson denies Dr Lopez recent statements on his termination and even counters his own documented position in the matter. Stinson's SWBTS statement also descends into the level of personal attacks on Dr Lopez.
Here is Mohler's SWBTS Provost Randy  Stinson's "Official" Statement. Mark these words which will soon be sinking to the bottom of a VAST sea of truth.
https://swbts.edu/news/releases/statement-southwestern-seminary-s-commitment-biblical-sexuality/
Having followed this story from the time Paige Patterson was forced out of SWBTS to today, I can affirm that the issues involving Dr.Lopez at SWBTS, a Southern Baptist institution, have everything to do with Albert Mohler and the problems his own progressive movement in the denomination has created.
Here they are in no particular order
Dr. Lopez's testimony of deliverance from homosexuality and full restoration to heterosexual norms is counter to Albert Mohler's ownership of the myth of "unchanging homosexual orientation " which he embraced in 2014 at the ERLC conference on "The Gospel. Homosexuality, and the Future of Marriage".
Provost Randy Stinson is Mohler's key man on the ground at SWBTS after Mohler's people took charge of the administration and began their overhaul of the curriculum. Stinson himself and SWBTS leadership confirm with the "layoff" of Dr. Lopez that THEY are overhauling /changing the curriculum. The embedded faculty at SWBTS who already had contacts and funding from the Social Justice invasive curriculum which has previously made its way into SBTS and SEBTS, were quickly – if not pre-selected to lead out the curriculum overhaul at SWBTS. This is the Kern Family Foundation funded, Oikonomia Network oversight, Acton Institute -Libertarian Catholic Social Justice curriculum which is at the root of the Mohler -Critical Race Theory /Intersectionality / James Cone/ Liberation Theology "Social Justice "controversies in the SBC. I first documented these connections and networks in 2016 article titled "the Evangelical Deep State". Mohler has welcomed this agenda driven curriculum  and funding not only into SBTS but now into SWBTS.  It may VERY WELL be the impetus behind their desire to oust Paige Patterson.
Provost Randy Stinson is an ERLC Fellow and speaker. He contacted ERLC leaders about Dr Lopez and used the ERLC poor "assessment " of Lopez in his threats and efforts to force Dr. Lopez resignation over the last several months. ERLC is led by controversial Albert Mohler disciple Russell Moore. ERLC trained staff give the main official support to the "unchanging homosexual orientation's" talking points which Albert Mohler has openly embraced and promotes to the SBC churches.  Dr. Lopez's testimony and professional work and ministry do not conform to this ERLC leading narrative
The real race problem in the SBC is in the Mohler circle as Mohler and his disciples continue to bear the heat of pushback from SBC 2019 justification of Critical Race Theory  and Intersectionality as "analytical tools" with the Gospel. Also efforts are ongoing to drive the #MeToo movement into the SBC as an abuse prevention. Dr. Lopez  made the point that efforts addressing sexual abuse by ERLC/ Moore /Mohler are problematic when it ignores the reality of Same Sex Abuse and that promoting LGBT+ in the SBC will ensure more not less abuse. Mohler called #MeToo movement against  SWBTS former President Paige Patterson "the Wrath of  God Poured on the SBC". (  https://albertmohler.com/2018/05/23/wrath-god-poured-humiliation-southern-baptist-convention/ ) Meanwhile in the midst of the talking points and media blitz the SBTS/ Mohler regime at SWBTS have in fact fired 13 minority  faculty including  Dr. Lopez. Stinson and SWBTS have replaced 6 of them with pasty white boys from Mohler's SBTS institution. Mohler, while pushing CRT, Intersectionality and #MeToo in the SBC is either allowing or directing his people to purge SWBTS of people of color and minority faculty. In the case of Dr. Lopez this is counter to his own intersectional humanity as a Latino,  former homosexual, former liberal academic turned Baptist believer. He now finds himself out of a job and being lied about in public by Mohler disciples at SWBTS.
Dr. Robert Lopez is a problem for Albert Mohler, for the ERLC, Russell Moore, for SWBTS Randy Stinson, and the SWBTS faculty position BECAUSE he is NOT Sam Allbery or Rosaria Butterfield or Jackie Hill Perry or Christopher Yuan or Nate Collins of Revoice (an SBTS graduate and NT Teacher) or Karen Swallow Prior, or J D Greear, or Andrew Walker and Daniel Darling (employees of the ERLC). Dr. Robert Lopez  counters all their talking points of Same Sex Attraction and "unchanging homosexual orientation". He is not standing in ERLC conferences demanding SBC churches be more "hospitable " welcoming of  LGTQ+ Community, pining after deeply cherished homosexual desire toward the same sex (SSA). Dr. Lopez is NOT  calling for SBC churches to audit their churches for LGBTQ+ inclusion ( like Sam Allberry/ Living Out). He is not demanding SBC people hire LGBT+ staff or support Single  SSA Christian adoption and foster care. Lopez is not insisting that Queer Culture holds treasures for the New Jerusalem as SBTS Graduate /NT Teacher REvoice founder Nae Collins website did . Lopez instead wrote an Amicus Brief for SCOTUS Obergefell defending the rights of children to know birth parents in the quagmire being created  by unnatural  circumstances  around  same sex  "parenting".
Dr. Lopez is ALSO  a target because he spoke up. This includes two recent resolutions submitted to the SBC. One to stand up for so called "Ex Gay " ministries and Counseling and the other ironically  to protect Whistle Blowers in the SBC. Both were crushed by Mohler influence in the SBC Resolution Committees .

"I published this article under a false name on September 13, 2019. Why the pseudonym? Because SWBTS officials told me they were worried about the subject matter drawing unwanted attention to the institution. Note the date. Note the text of the resolution I submitted about sex abuse to the Southern Baptist Convention in April 2019, and the resolution I submitted in May 2018. I am not asking you to jump to any conclusions. Just note the timeline. Think real hard about the content. If you do so, the pieces of the puzzle will come together. And you will see the truth, because light wins over darkness."

"More light is coming."

https://www.americanthinker.com/articles/2019/09/to_affirm_lgbt_ideology_is_to_support_abuse.html

While living under the threats of Randy Stinson and the SWBTS Mohler disciples Dr. Lopez had to publish this truthful and disturbing warning ABOUT SEX ABUSE outcomes under another name. The trajectory Albert Mohler and ERLC/ Russell Moore and others have placed the SBC on is encouraging MORE sexual abuse with its false and unbiblical SSA/ Orientation. Read it and be warned and remember this is Albert Mohler's SBC …if he is allowed to continue the establishment of his movement. More bold truth tellers and whistleblowers will fall victim to this regime unless everyone stands up together and says "Enough "!

How do I know ? Because I have both lived it and am watching my friend Robert Oscar Lopez walk though it as we speak.