RUSSELL MOORE CONTINUES TO DISTURB CONSERVATIVE BAPTIST WITH HIS HIS INVOLVEMENT WITH SOROS FUNDED NIF AND HIS STAFFERS PUSHING "NEIGHBORLY (INTER)-FAITH" DIALOG.NOW THE PLOT THICKENS
Rev Thomas Littleton                                                                                       7/8/2020
Weary common sense conservative Christians who follow the latest jaw dropping compromise of the chief Baptist ethicist have yet ANOTHER  revelation to face. Not only is the ERLC and Russell Moore leading out in the conversation with "LGBTQ  RIGHTS" with deeply compromised organizations like the CCCU and the NAE and with Paul Singer funded & Campaign but the ERLC "multi-faith dialog with Islamic leaders is ramping up.
Moore and his recent meeting with pro LGBTQ "Fairness for All" advocates:
https://thirtypiecesofsilver.org/2020/06/20/baptist-must-fire-russell-moore-or-be-bought-by-paul-singer-partners/
Moore's ERLC pro Muslim policy leaders have taken on even broader dimensions with participation in the Wheaton College "Neighborly Faith" event pushing "Christian -Muslim dialog".
https://thirtypiecesofsilver.org/2019/11/07/erlcs-daniel-darling-in-interfaith-movement-leadership/
DECONSTRUCTING RELIGIOUS LIBERTY
The ever widening circle of antithetical issues to Christian faith and Constitutional protections of it which the Russell Moore machine insist we embrace are classic deconstructionism .
Most if not all of ERLC's  goals look to be primarily focused on some political agenda being served like participation in the Islamic Refugee Settlement -something the SBC and NAMB have positioned themselves  well to cash in on. It is even possible that the anti- Trump rhetoric of Moore and his ERLC may be more about  a love of government lucre than about a hatred of Trump. Either way the ERLC released it's voter "civility guide" in December 2019 crafted to persuade Christians they live in a "pluralistic society" coming from a point of weakness where being too conservative might "actually hurt their cause AND the Gospel". The Civility Guide for political engagement comes from a Georgetown Professor (himself an ERLC Fellow ) and a RABIDLY "new age " think tank so consider the sources. Questioning how standing down is a way to stand up for Christian protections and how protecting Religious Liberty by promoting the interest of sexual rights, redefining family, and rival religious systems would be "lacking civility". Standing firm for American standards of Constitutional freedoms -well that would be the rankest form of "nasty nationalism". Right?
ERLC CIVILITY GUIDE FOR 2020 ELECTION CYCLE
https://thirtypiecesofsilver.org/2019/12/26/erlc-mr-civility-more-anti-trump-than-christianity-todays-galli/
NOW THE PODCAST
ERLC FORMER POLICY ADVOCATE FOR RELIGIOUS LIBERTY ON CAPITAL HILL HAS A "MULTI-FAITH PODCAST"
"A CHRISTIAN AND A MUSLIM TALK POLITICS AND RELIGION."
https://www.crossingfaiths.com/
"Two friends, Matt Hawkins (a former policy director for the Southern Baptist Convention) and John Pinna (former Executive Director of American Islamic Congress) talk religion and politics. The podcast delivers weekly episodes featuring commentary on news, politics, multifaith experiences, and expert guests. The conversations build on almost a decade of their collaboration, advocating in Washington, D.C. for religious freedom domestically and around the globe. The two developed the podcast with a desire to share conversations that model friendship and collaboration despite deep differences in religion and background."
"WE PREFER  MULTI-FAITH NOT INTER-FAITH "
Hawkins reveals that the podcast might be a bit troubling to some and its reception might be a bit slow to catch on but he and the interviewer see the approach as a big step forward. He sites Paul D Miller in the interview who wrote the Civility Report for ERLC in and gives some details about his relationship to and more about  his Muslim partner on the podcast linked below. Both seem to prefer the label "Multi Faith Dialog " to "Interfaith Dialog " although the wordplay and hairsplitting over names hardly alters the purpose or outcomes .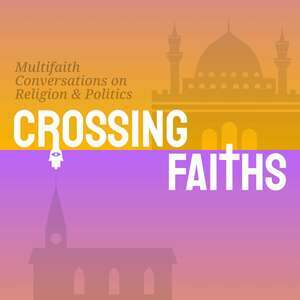 The Kent Lapp Podcast #050 | Matthew Hawkins
Matthew Hawkins is a PhD student, podcaster, and writer. Most content focuses on the intersection of religion and politics. His current podcast projects incl…
Matthew Hawkins is a PhD student, podcaster, and writer. Most content focuses on the intersection of religion and politics. His current podcast projects incl…
"A very timely conversation with the previous Policy Director on Capitol Hill for the ERLC, Matthew Hawkins. Currently pursuing his PhD in Public Theology Matt co-hosts the first podcast featuring a Christian and a Muslim talking religion and politics (Crossing Faiths Podcast). Matt's experiences include participation with the International Religious Freedom (IRF) Roundtable, co-chair of the Congressional Working Group and founding host & producer of the ERLC's Capitol Conversations podcast. The perfect guest for episode 50, we discuss the current state of partisan politics, the role of religion in politics, Trump and the news, the wise use of social media as part of the greater conversation, how laws get passed on Capitol Hill and which are designed to fail only to satisfy their constituents, current events and a whole bunch more. Matt is one sharp tack, I do believe you will find his thoughts helpful at this time. Enjoy!"
MORE ABOUT MATTHEW HAWKINS OF THE ELRC
"Matthew (Matt) Hawkins is a PhD student, podcaster, and writer. Most content focuses on the intersection of religion and politics. His current podcast projects include as cohost of Crossing Faiths: A Christian & a Muslim Talk Religion & Politics, and as associate producer of a forthcoming legal podcast from WORLD Radio."
"Matt is available as a speaker, consultant, writer/editor."
"A native of West Virginia, Matt previously served as a Policy Director for the Ethics & Religious Liberty Commission (ERLC) in Washington, D.C. The ERLC is the public policy arm of The Southern Baptist Convention, America's largest organization of Protestant Christian churches with over 46,000 congregations nationwide. Through broadcasting and government relations, a 17 year career with the ERLC provided Matt with a front seat to the nation's debates involving religion and politics (2001-2018). "
"After 8 years in Washington, Matt relocated to the Nashville, TN area where he is pursuing a Ph.D. in public theology via Southeastern Baptist Theological Seminary (Wake Forest, NC). Alongside, he writes and consults at the intersection of religion and the public square. Matt holds an M.A. in Ethics and Public Affairs from George Mason University and a B.A. in Business & Administration from Belmont University."
"Matt's experience includes participation with the International Religious Freedom (IRF) Roundtable, as co-chair of the Congressional Working Group and later on the Steering Committee. The IRF Roundtable is perhaps the most politically and religiously diverse gathering in DC, uniting across deeply held divisions to advance a most basic human right—religious freedom—around the globe."
"Matt was also the founding host & producer of the ERLC's Capitol Conversations podcast for 4 years, interviewing other advocates and policy makers including members of Congress and ambassadors. Matt has been published at The Wall Street Journal, ERLC.com and in a collaborative contribution to a chapter in the academic title, The Rhetoric of Religious Freedom in the United States (2017), "Persuasive Ambassadors: The Southern Baptist Commitment to Religious Freedom for All".
ACCORDING TO HIS BIO-
HAWKINS WORKS FOR A UNITED NATIONS AFFILIATED ORGANIZATION ADVOCATING FOR RELIGIOUS LIBERTY FROM A CLEARLY "INTERFAITH" /GLOBALIST STANCE.
https://www.irfroundtable.org/blank-page
PURPOSE AND OVERVIEW STATEMENT

"The IRF Roundtable is an informal group of individuals from non-governmental organizations who gather regularly to discuss IRF issues on a non-attribution basis. It is simply a safe space where participants gather, speak freely in sharing  ideas and information, and propose joint advocacy actions to address specific IRF issues and problems. In response to various participant-led initiatives regarding the protection and promotion of freedom of religion, conscience, and belief in the U.S. and abroad, all participants have the opportunity to self-select into coalitions of the willing."
"The Roundtable meets every three months in the U.S. Capitol and average attendance has grown to 60-75 participants from civil society and government, including senior staff members from the State Department, the U.S. Commission on International Religious Freedom, the U.S. Helsinki Commission, the Tom Lantos Human Rights Commission, the International Religious Freedom Caucus, members of Congress, and foreign embassies."
"The goal of the Roundtable is to reverse the rising tide of restrictions on religious freedom that has been spreading across the world. According to the Pew Research Center's latest annual study on global restrictions on religion, 83% of the world's population lived in countries with high or very high levels of restrictions and/or hostilities in 2015 (up from 79% in 2015, 74% in 2014; and 68% in 2007)."
​
"In this direction, the purpose of the Roundtable is to advance IRF by:"
​
1. Engaging the U.S. government to make IRF a foreign policy and national security priority so:
IRF is fully integrated into U.S. foreign policy and national security, including democracy promotion,

public diplomacy, counterterrorism, and multilateral strategies.

U.S. foreign policy tools are used to advance religious freedom around the world, per the mandate established by the 1998 International Religious Freedom Act.

The political and cultural institutions necessary to advance religious freedom are continually supported, facilitated, and protected at home and abroad.

Global levels of religious intolerance, discrimination, persecution, terrorism, and instability are significantly reduced.
2." Engaging civil society leaders, other governments that protect and promote religious freedom, and multilateral, intergovernmental institutions to coordinate joint advocacy efforts."
3. "Engaging in meaningful dialogues with governments that restrict religious freedom, so as to:
Politely but persistently push factual reports that document violations of their own constitutions and/or international commitments.

Frame the issues in their best interests, and increase mutual understanding and respect of religious communities and dynamics.

Agree on a process to resolve differences related to particular situations in their countries.

Create a mechanism for improvement of policies and practices, and for verification."
​
"While participants of the IRF Roundtable continue to engage the U.S. government to do more to advance IRF, and work with it when and where it can help, they do not rely exclusively on it to achieve the goal. Rather, participants also reach out directly to other governments. The meaningful dialogues they have opened with ambassadors, embassies, and delegations are designed to grow into results driven collaborations. Indeed, they are manifestations of "bottom-up" civil society engaging the "top-down" of authoritarian governments, something participants want to model in the context of multiple bilateral relations. To borrow from the language of diplomacy, the Roundtable represents a creative intersection of "Track 1" (governmental) and "Track 2″ (civil society) its emerging model is a true demonstration of "Track 1.5" engagement in action, through which strategic partnerships, collaborations, and consultative relationships between governments and civil society organizations might advance peace and prosperity."
​
"Policy regarding the Chatham House rule:"
"The International Religious Freedom (IRF) Roundtable model is based on participants being able to discuss religious freedom issues freely in a "safe space." The creation and maintenance of this "safe space" is thus a foundational principle that allows participants from a wide range of backgrounds and religious beliefs to convene, discuss, and act on facts, circumstances, proposals, and policies in support of religious freedom worldwide. Such a "safe space" needs to be fiercely protected in a world in which, for many people in too many locations, it is dangerous to speak up and raise issues that impact religious freedom. The use of the Chatham House Rule is one key means to creating a safe space for effective discussion and action.
ERLC'S HAWKINS WORKED ON THE IRF STEERING COMMITTEE .ITS WORK IS DESCRIBED BELOW .
The Steering Committee intends to steward and protect this free and safe forum by the use of the Chatham House Rule, and so, when necessary, will take actions to protect the IRF Roundtable model. Therefore, as determined by the Steering Committee, if any individual, representative, or group violates the Chatham House Rule in a way that undermines the IRF Roundtable model and/or the safety of its participants or others, they will be removed from the mailing list and dis-invited to any and all future events and activities directly organized and/or hosted by the IRF Roundtable."
CONCLUSION
ERLC IS ON THE CUTTING EDGE OF MULTI-FAITH DIALOG AS AMERICAN CHURCHES AND OUR CONSTITUTIONAL RELIGIOUS LIBERTY PROTECTIONS ARE UNDER MASSIVE ASSAULT. COVID-19 HAS BEEN USED TO SHUT DOWN CHURCH SERVICES AND EVEN OUTLAW SINGING /WORSHIP IN SOME PLACES.
DAILY SCOTUS DECISIONS ARE  PAINTING AMERICA'S CHURCH INTO VERY SMALL /LIMITED SPACES.
RELIGIOUS FREEDOM IS BURNING DOWN WHILE MOORE AND HIS DISCIPLES FIDDLE WITH THEIR LGBTQ AND MUSLIM FRIENDS.
As always the ERLC under Russell Moore, as well as his many disciples in its employ – retain a distracted focus on other issues. Moore's disciples who have moved on from the ERLC continue the same mission. Matters of interfaith religions, LGBTQ rights, refugee rights  and resettlement, redefining the family and transforming the political engagement of Baptist and the broader American Christian Conservatism seem the common ERLC obsession. Appeasing the international community with diversity and inclusion, hanging out at UN and IRF events and espousing the language of "human dignity" over  individual freedoms and even the U S Constitution appear to be the goal rather than any of the task their job descriptions call for. Dropping the ball on protecting and preserving Christians Religious Liberty -as the ERLCs name and history imply…to Moore and his underlings must seem the "Ethical " and "Christian" thing to do. If so, then they do it very well.