AFTER HELPING DESTROY HIS PCA DENOMINATION, TIM KELLER SHOWS HIS POLITICAL COLORS BY JOINING DEMOCRATIC PARTY, OBAMA FOUNDATION, AND BILLIONAIRE PAUL SINGER BACKED & CAMPAIGN "ELDER BOARD".
By Rev Thomas Littleton                                                                            7/23/2020
For years those who followed Tim Keller closely have been warning about his true left ward political and social justice leanings. Now even the most skeptical fan of  Christianity's " great thinker" can see where he stands and what values drive the man behind the theological mask. Keller's influential organization The Gospel Coalition, co-founded with D A Carson, is a theologically emergent, politically left of center, social justice (false) gospel movement. Keller's work with Bio-Logos seeks to combine EVOLUTION  and CREATION. It is funded by the Templeton Foundation which promotes the same goals and seeks to endorse and fund  "religion that adheres to no sacred text", Bio-Logos shows Keller's deep theological confusion yet no fact to date has confirmed the reality of his broader self contradiction more than his recent surfacing as an "ELDER" for the & Campaign.
WHAT WILL BE TIM KELLER'S LASTING LEGACY ? 
Is Tim Keller "the MOST influential Christian of our time"? These thoughts began to be discussed just behind the headlines when Keller announced last moth that he has been diagnosed with pancreatic cancer. Please pray for Tim Keller and his family and for the many people under his influence in seminaries, pulpits, Christian media and curriculum today. In the sobering reminder of serious illness anyone would begin thinking about their legacy. Those in Christian ministry in particular, should think about not only legacy but the judgement seat where "every man ( & woman) works will be tried and put to the fire of God's gaze. Tim Keller, like all of us, must think of his life in light of eternity.
https://www.christianitytoday.com/news/2020/june/tim-keller-pancreatic-cancer-prayer-chemo-redeemer-nyc.html
If you have been hearing Keller called the "new John Stott" or the "new C S Lewis" or "America's greatest Christian thinker" then you likely consume far too much unfiltered Christian media. While Keller is a member and teaching elder in the conservative  PCA , his political views and those of The Gospel Coalition he co-founded with D A Carson in 2006 betray a far more left leaning man. So whose report will you believe as the legacy of Tim Keller is defined ?
According to a 2018 episode of the ABC program "UNCOMFORTABLE ",  one of Keller's TGC leader's Colin Hansen revealed that the reason that TGC was founded was to counter the bad political choices of evangelicals like the 2016 election of President Donald Trump. Now we also see that Tim Keller has joined the & Campaign which will be discussed in detail further in this article. & Campaign political objectives focus heavily on preventing the re-election of President Trump in 2020.
ABC AND TGC:
https://abcnews.go.com/Politics/evangelical-leader-collin-hansen-believes-live-culture-full/story?id=53370130
Evangelical leader Collin Hansen believes we live in 'a culture full of fear and loathing'
Collin Hansen appears on a new installment of "Uncomfortable."
Note again that now  Tim Keller himself has joined the & Campaign a decidedly left run organization with USELESS EVANGELICAL leader Joel Hunter and Jim Wallis Sojourners leader Barbara Williams-Skinner .along with others ,to serve in the & Campaigns Elder Board
https://andcampaign.org/leadership
The & Campaign is led by a Democratic Party operative Justin Giboney, Obama Foundation Faith Outreach Ambassador to America's Believer's Michael Wear and the entire movement is partnered with the American Unity Fund of pro LGBTQ billionaire Paul Singer. & Campaign seeks to combine "Biblical Values & Social Justice" in third way compromise with conservative and liberal believers but has lacked a single truly conservative voice in its leadership.
MORE HERE ON & CAMPAIGN :
https://thirtypiecesofsilver.org/2019/11/06/tgc-alliance-with-progressive-campaign-launched-at-mlk-50/
https://thirtypiecesofsilver.org/2019/12/17/russell-moores-friends-at-campaign-hook-up-paul-singer-with-revoice-for-lgbtq-rights/
KELLER IS NO STRANGER TO THE OBAMA POLITICAL CIRCLES
In 2012 Keller and three other evangelicals met with the newly re-elected President Obama at the White House. They promised to use their influence to bring the evangelical church toward the middle of the political "isle " in decidedly Third Way posture. That meeting and the Third Way ideals touted as "Good Faith" are recounted in a book by Keller partners Gabe Lyons and David Kinnaman .
Keller's TGC promoted the book in 2016
THINKING CAPS ON FOR A MOMENT
Keller and TGC repeatedly use their influence to shame believers who support conservative politics and have openly opposed the campaign, election and administration of President Donald Trump. During the prior administration of Barak Obama they openly sought "common ground " and dialog and promised to persuade evangelicals to come into the political middle. TGC even hired then Obama Faith Outreach coordinator Michael Wear to write and speak for TGC. Keller now joins Wear who  continues his work in the Obama Foundation as it's "Ambassador the America's Believers". In Keller's new role as an Elder at the & Campaign with Michael Wear.Keller continues his close relationship to the Obama political machine and the mystery money behind it.
(Note Keller and TGC ignore that the Obama White House did more to promote Muslim rights and proliferation than to protect Christians. The Obama administration promoted more anti-family- pro LGBTQ policy including the 2015 "victory " of the SCOTUS  decisions which redefined marriage. By 2015 Obama administration had boosted Title X tax dollar funding promoting abortion from @ $35 million per year to over $530 million per year. President Trump, on the other hand, was the first US President to not only attend but to speak at the March for Life anti- abortion rally in DC. Yet still Keller and TGC are unable to find their "common ground" with the Trump administration while lavishing praise and agreement with the most bloody administration, as far as pro abortion funding, in American history. So we must ask…" How is that possible? ")
& CAMPAIGN AND BILLIONAIRE PAUL SINGER
The & Campaign is promoting the Alliance for Lasting Liberty as a full fledged partner with "The American Unity Fund".
The main legislative action the "Alliance" is promoting is the LGBTQ rights bill called "Fairness for All". (MORE ON KELLER AND HIS LGBTQ INFLUENCE AHEAD )
ALLIANCE PARTNERS
American Unity Fund:
"American Unity Fund (BILLIONAIRE Paul Singer's organization ) fully endorses the Fairness for All Act. This is the right solution for such a complex problem that urgently needs to be solved. Fairness for All acknowledges that we live in a diverse society. Civil rights should be guaranteed for everyone regardless of sexual orientation, gender identity, sex, or religion. Those rights can be fully protected while safeguarding religious freedom."
AND Campaign
"All attempts to remove more traditional religious beliefs from the public square should be opposed. We, like many other Americans, affirm the historic Christian sexual ethic, and we also believe that religious freedom and LGBTQ civil rights are not necessarily in irreconcilable conflict. Faith-based charities, hospitals and colleges should not have to choose between surrendering their convictions and closing their doors. At the same time, LGBTQ people should not lose jobs and housing because of how they identify."
Keller and & Campaign's other Theologically mixed partners in the Alliance for Lasting Liberty :
Seventh-day Adventist Church:
"The Seventh-day Adventist Church applauds the Fairness for All Act's balanced, principled approach for protecting both religious freedom and LGBT civil rights."
The Church of Jesus Christ of Latter-day Saints:
"The Church of Jesus Christ of Latter-day Saints ( Mormons) commends the introduction of federal legislation that seeks to preserve religious freedom and protect LGBT individuals from discrimination."
ELDER BOARD FOR & CAMPAIGN
Newly revealed on the & Campaign site are the list of "Elders" offering leadership to the younger crew of political operatives of the Democratic Party and Obama Foundation along with a host of young TGC "Urban Church " activist pastors.
LIBERAL EVANGELICAL FRINGE LEADER JOEL HUNTER
"A longtime bridge-builder who seeks common ground for the common good, Dr. Hunter approaches today's challenges in a biblical and balanced manner. Cooperation and partnership are hallmarks of his ministry. Together, he believes, we can accomplish more because of our differences than we would on our own—without giving up our unique identities. "People are missing a way to benefit from differences without compromising their beliefs", Dr. Hunter has said. "Fear and suspicion of differences limit spiritual maturity. Both spiritual and intellectual maturity grow from differences. Contrasts can be used to accomplish kingdom purposes."
"Dr. Hunter was born and raised in Shelby, Ohio, by a mother who "taught me to always love people who were different than I was." As a result, he became involved as a young adult in the civil rights movement at Ohio University. He came to a crisis of faith after the assassination of Rev. Martin Luther King, Jr"
NOTE -additional background on Joel Hunter's counter evangelical conservative history:
"He is the author of A New Kind of Conservative (Regal 2008), Church Distributed (Distributed Press 2008) and Inner State 80: Your Journey on the High Way (Higher Life 2009). Hunter accepted the presidency of the Christian Coalition in 2006, but resigned before taking the office."
"Hunter delivered the closing benediction on the final day of the 2008 Democratic National Convention, prayed with Senator Obama on the day of the 2008 presidential election and offered a blessing for President-elect Obama at the Pre-Inaugural Worship Service at St. John's Church on January 22, 2009. On February 5, 2009, he was appointed to the White House Office of Faith-Based and Neighborhood Partnerships. In April 2011, he was named a member of the Commission on Accountability and Policy for Religious Organizations."
Climate change activism
"Hunter was asked in February 2006 to sign the Evangelical Climate Initiative, a document recognizing global warming based on the findings of the Nobel Prize-winning Intergovernmental Panel on Climate Change (IPCC). Fellow signatories included Rick Warren, the presidents of 39 Christian colleges, and the president of the Salvation Army. In the spring of 2006, he was asked to host a TV advertisement by the group . In the summers of 2006 and 2008, Hunter was invited to symposiums on creation care at Windsor Castle. He has since been named by Grist Magazine as one of the top 15 religious leaders in creation care, along with Pope Benedict XVI and the Dalai Lama. "
President's Advisory Council on Faith-Based and Neighborhood Partnerships
[
edit
]
"Hunter served in the inaugural year on the Advisory Council for the White House Office of Faith-Based and Neighborhood Partnerships (2009–2010), which advised President Barack Obama on substantive policy issues including interfaith relations, strengthening the role of fathers in society, and reducing the number of abortions."
MORE & CAMPAIGN ELDERS
BARBARA WILLIAMS -SKINNER
https://sojo.net/biography/barbara-williams-skinner
SKINNER IS MEMBER OF JIM WALLIS SOJOURNERS NETWORK
"Trusted advisor, public policy strategist, faith and community leader, author, lecturer, educator, executive coach, and mentor, Dr. Barbara Williams-Skinner has made an indelible imprint in American public policy, government, diversity, and community relations."
"Considered one of Washington's most influential leaders, especially in the faith community, Dr. Williams-Skinner is included in 2008's "Presidential Who's Who Among Business and Professional Achievers."
"Dr. Williams-Skinner also served on the White House Faith Counsel focusing on the issues of human trafficking. She was the first female Executive Director of the Congressional Black Caucus, and continues to serve as an advisor to CBC Members and to the Congressional Black Caucus Foundation. Dr. Williams-Skinner and her late husband Tom Skinner co-founded the CBCF Prayer Breakfast nearly 30 years ago. She is the mother of two adult daughters through marriage, grandmother of 11, godmother of 7, with countless mentees and protégés across the nation."
BISHOP CLAUDE ALEXANDER,   ELDER FOR & CAMPAIGN
https://biologos.org/people/bishop-claude-alexander?
BIO-LOGOS PARTNER WITH TIM KELLER AND FRANCIS COLLINS PROMOTING THE MERGER OF SCIENCE AND FAITH – BISHOP CLAUDE ALEXANDER
"BioLogos provides a space where followers of Christ across the disciplines of science and religion are able to affirm their shared belief in and worship of God as the creator of all that is, and their common concern for the proper stewardship of God's creation in a manner that appreciates the integrity of their disciplines and the authenticity of their faith communities."
"Through its programs, the points of intersection between science and biblical faith, along with the tensions and challenges, are explored in a collegial fashion that leads all to an enhanced wonder of God and ability to communicate effectively the harmony that is found in them."
Bishop Claude Alexander
THE CONTRADICTION OF FAITH AND SCIENCE WAS GENERATED BY ATHEIST INTEREST TO UNDERMINE THE BIBLE . BIOLOGOS EFFORTS ARE A FOOLS ERRAND AT BEST AND SEEK TO RECONCILE THESE CONTRADICTIONS BY THE SAME MEANS.
Keller and other Bio-Logos leaders fail to see their own self defeating contradictions.
If you are a biblical 6 day creationist then searching deeper into the work of Bio-Logos is a needed endeavor as it and the Templeton Foundation seek to reconcile Biblical faith with the very faux science that was  introduced to counter the Word of God .
BioLogos Public Engagement: Inviting the Church and the World to See the Harmony between Science and Biblical Faith
"Making high-quality resources of this sort available to non-academic audiences was the inspiration behind BioLogos. The organization, launched in 2007, began as a place to discuss common reader questions about the book The Language of God by Francis Collins, leader of the Human Genome Project. The site hosts a wide range of blog posts, articles, and videos which explore issues at the intersection of science and the Christian faith. Over past decade, the BioLogos website has grown to become one of the most visited resources for information about Christianity and science."
Tim Keller thinks the business of the Church and the work of the gospel will only succeed in today's culture if we make such an argument appealing to it with a "high apologetic". Clearly he has mistaken reason with faith and the work of the Holy Spirit in conversion.
MORE & CAMPAIGN ELDERS CAN BE SEEN IN THE &CAMPAIGN LEADERSHIP PAGE SCROLL DOWN TO THE NEWLY ADDED "ELDERS"
MORE REAL KELLER ACTIVITIES
TIM KELLER'S OTHER ACTIVITIES THAT WILL DEFINE HIS LEGACY
FAITH AND WORK
Tim Keller is at the epicenter of the "Social Justice" driven economics teachings which promote "common ground for the common good" as a means to disciple university, seminary students and church members in the central ideals of collectivism and communitarianism. The use of Austrian economics and Hayek mixed with liberal 1970s Catholic Social policy and Libertarian political policy produces both a social and political ideology built NOT on the free enterprise and capitalism espoused by the Faith and Work programs and curriculum but driven by broad globalist collectivist principles behind "human flourishing ". A thin veneer of reformed theological wrapping what Keller and others dub a "Theology of Work"..or "Vocation " seeks to create the appearance of a Biblical basis for the Faith and Work ideologies despite it's varied sources politically and socially.
THINKING AND FUNDING FROM OUTSIDE THE CHURCH
The Faith and Work IDEOLOGY espouses that the true value of work is found in laboring for the collective common good which produces "human flourishing". Social Justice is a central value driving the  Faith and Work ideals which are introduced into seminary curriculum provided by Catholic think tank Acton Institute and taught to leaders and professors through the Acton University. Keller has spoken at Acton's Annual fundraisers. Keller and Faith and Work advocates in the church work with his TGC and the Oikonmia Network to shape the economic policy and hearts and minds of young believers into ready volunteers in a "Christianized " version of "The Great Society " replacing the Gospel with "redeeming culture" , and community development". The "Theological" underpinnings of which are a hodgepodge is ivy league thinking , total quality management and  politically socialist economics.
https://www.acton.org/acton-notes/volume-28-number-3/timothy-keller-keynote-actons-28th-annual-dinner
Keller has his own "Center for Faith and Work" at Redeemer Church and speaks across the globe with it and other F&W organizations as well as in the centers at various reformed Seminaries in the Kern Family Foundation funded Oikonomia Network and centers for cultural engagement established on those partner school campuses.
NYC CENTER FOR FAITH AND WORK
OIKONOMIA NETWORK (BOTH IT AND KELLER'S TGC ARE LOCATED ON THE CAMPUS AT "TEDS" IN DEERFIELD ILLINOIS.)
LIST OF OIKONOMIA PARTNER SCHOOLS
THE HISTORY OF THE SPREAD OF THESE SOCIAL JUSTICE IDEALS IN EVANGELICALISM
The history of the spread of these ideals and funding behind them can be found in the book linked below called  "The New Evangelical Social Engagement."
The book was reviewed by Keller's TGC and it's Themelios journal for pastors .
NOTE: The book review promotes the notion that the Emergent Movement in the church made the "Social Engagement" transformation possible among a broader cross section of conservative evangelicals . Keller was in fact working at the ground level created by the Emergent Movement with many of its leaders in the 2010 "MISSION SHIFT" .(Much of its website has also been taken down)Remnants of MS ,along with it's emergent partners, and Keller's fellow Lausanne Movement leader Ed Stetzer can still be found here:
http://www.missionalmanifesto.net/
FRANKFURT SCHOOL AND TIM KELLER
Tim Keller has subscribed to many Cultural Marxist  think tank ideologies from the University of Virginia's Institutes for Advanced Studies in Culture. The IASC website "about "page boasted it's own roots in the Frankfurt School and Vienna Circle until these facts were exposed on multiple Christian media outlets.
COMPARE THE PRESENT LINK ABOVE TO THE FRANKFURT SCHOOL ORIGINAL BELOW
https://web.archive.org/web/20170606001257/https://iasculture.org/about
"Our institutional inspiration comes from the close-knit intellectual fellowships of the past (such as the Frankfurt School and the Vienna Circle); our philosophical inspiration comes from a thoughtful re-appropriation of the theologies and classical philosophies which characteristically champion the dignity of the person, the pursuit of the just life, and the flourishing of the human community."
Tim Keller and the Frankfurt Inspired IASC were involved in the Lausanne Movement "civility " covenant aimed at third way compromise on issues related to cultural engagement and the LGBTQ issue ,among others, espoused in the  "Civilitas" group in January 2015. It's website has since disappeared but can be found on internet archives.
https://web.archive.org/web/20170506051340/http://www.civilitasgroup.org/uploads/7/8/1/6/78160154/civilitas_
LGBTQ
BY 2011 APPEARANCE IN A VERITAS EVENT AT COLUMBIA UNIVERSITY KELLER COULD NO LONGER PLAINLY STATE THAT HOMOSEXUALITY WAS A SIN IN THIS SECULAR CAMPUS FORUM.
IT IS A PAINFUL 6 MINUTES TO WATCH.
What do Christians have against Homosexuality? Tim Keller at Veritas [8 of 11]
university events • life's hardest questions • relevance of Jesus Christ
http://www.veritas.org/media
David Eisenbach launches his toughest questions at Tim Keller. Join Prof. Eisenbach and Tim Keller for The Veritas Forum at Columbia. In this clip, Tim Keller offers suggestions on how Christians should treat homosexuals. Over the past two decades, The Veritas Forum has been hosting vibrant discussions on life's hardest questions and engaging the world's leading colleges and universities with Christian perspectives and the relevance of Jesus. Learn more at
http://www.veritas.org
, with upcoming events and over 600 pieces of media on topics including science, philosophy, music, business, medicine, and more!"
NOTE: THIS VIDEO ALONE HAS HAD ALMOST A MILLION VIEWS. WHAT A GOLDEN OPPORTUNITY KELLER MISSED TO SPEAK THE TRUTH ABOUT THE WORD OF GOD.
KELLER AND LIVING OUT /ALLBERRY
BY 2018 TIM KELLER AND HIS WIFE KATHY WERE IN LONDON SPEAKING WITH GAY PRIEST SAM ALLBERRY (A TGC EDITOR ON LGBTQ ISSUES) AT ALLBERRYS LONDON CONFERENCE FOR LIVING OUT .
By 2018 the Living Out LGBT+ ministry of Allberry was introducing an "LGBTQ Church Inclusion Audit that included a call for,among other demands, church members to engage in hiring LGBTQ STAFF, and even sharing of their children with people who identify as LGBTQ. Kathy Keller pronounced the Church Inclusion Audit as "brilliant" and that " we are taking this right back to our Redeemer Church".
KELLER'S REVOICE TIES
REVOICE WAS PROMOTED BY ALLBERRY "FOR OUR US FOLLOWERS" AS THE LONDON LIVING OUT CONFERENCE WITH THE KELLER'S WAS ADVERTISED .
REVOICE LGBT+ THRIVING CONFERENCE WAS THE TURNING POINT FOR KELLER'S CIRCLES OF COMPROMISED TGC LEADERS.
MANY OF THE REVOICE PEOPLE WERE STUDENTS, ALUMNI AND SOME EVEN PROFESSORS AT TGC INFLUENCED SEMINARIES.
The Revoice controversy was symbolic of the greater struggle for biblical fidelity against the flood tide of inclusion and LGBTQ political and psychological narratives brought into the church largely  by Keller and his TGC.
The seminaries were deeply infected and Revoice promotion exposed this disturbing reality in both the PCA and the Southern Baptist leadership.
REVOICE ORIGINS WERE IN CONSERVATIVE INSTITUTIONS WHICH INCLUDED CTS AND SBTS . MOST REVOICE LEADERS WERE PROMOTED OPENLY BY KELLER'S TGC BEFORE AND SINCE THE REVOICE CONTROVERSY .
REVOICE FALLOUT IN THE PCA
Revoice caused no small stir in the PCA in 2018. One year later in the June 2019 General Assembly a "committee " was formed to study the issues behind Revoice and human sexuality and gender to report back the following year at the G A 2020.
A PCA church Memorial Presbyterian had hosted the Revoice event in 2018 with its PCA credentialed, now self proclaimed "Gay Pastor" Greg Johnson. Johnson was given the floor at the 2019 G A and was supported by long time Tim Keller disciple and 12 year staffer for Keller ..Scott Sauls. Also note Sauls was an open endorser of Revoice from the debut of its controversial website and had traveled in 2017 with Revoice founder Nate Collins to plan the 2018 event.
REVOICE CELEBRATED PCA VICTORY
REVOICE EVEN SET UP A "HOSPITALITY SUITE AT THE 2019 PCA GENERAL ASSEMBLY TO CELEBRATE THEIR PROGRESS.
https://thirtypiecesofsilver.org/2019/06/30/pca-general-assembly-revoice-hospitality-suite/comment-page-1/
The PCA General Assembly for 2020 was cancelled by COVID-19 so the "Committee Report" was submitted in June of 2020 and the PCA denomination SPLIT  within days of the Committee Report . Tim Keller and close TGC disciple Kevin DeYoung and variety of Revoice ideological adherents to it's APA rooted narrative on Sexual Orientation ,Gender Identity or SOGI shared in the "committee leadership " positions.
"The Ad Interim Committee Report on Human Sexuality that has been prepared for the 48th General Assembly of the Presbyterian Church in America (originally scheduled for June 2020) is now available."
"The Ad Interim Committee studied issues assigned by the 47th General Assembly in June 2019. The Report will not be officially presented to the 48th General Assembly until its next scheduled meeting anticipated in 2021. Nevertheless, the Committee is making the Report available to the church at this originally scheduled time because members were commissioned by the Assembly to engage in this study due to pressing needs in our church and society. "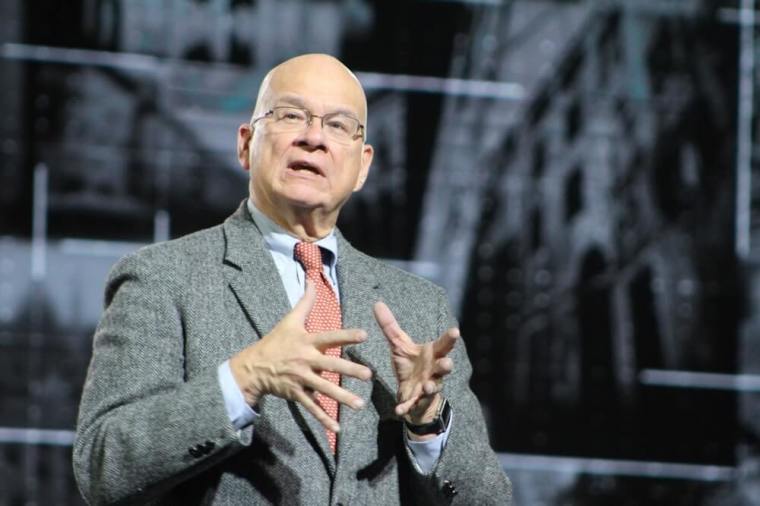 TIM KELLER-HERO OF THE FAITH OR MASTER OF DISGUISE ?
What is the legacy of Tim Keller ? How will his influence in the church be recorded? Depends of who you ask and what information one bases their conclusions upon. The age of the internet has given opportunity for believers to research for themselves and for those who speak up or ask the hard questions  to be labeled as "conspiracy theorist" of "making guilt by association" . However Keller has way too many alliances and associations to avoid a reasonable conclusion of guilt in shared values of those with whom he allies. His politics and social policy do not reflect Biblical Values ,as & Campaign projects but reflect upon motives and goals honest /thinking persons cannot help but question and find disturbing ? Who is Tim Keller? Is he Friend or Foe to the church and it's place in American culture for the future? Time will tell but, given that  his circles of influence just SPLIT HIS OWN DENOMINATION , things are not looking good for an honest assessment of Tim Keller and his legacy.
In the end , it is God who judges men's hearts and weighs us in the balance.
Galatians 6
"Brethren, if a man is overtaken in any trespass, you who are spiritual restore such a one in a spirit of gentleness, considering yourself lest you also be tempted. 2 Bear one another's burdens, and so fulfill the law of Christ. 3 For if anyone thinks himself to be something, when he is nothing, he deceives himself. 4 But let each one examine his own work, and then he will have rejoicing in himself alone, and not in another. 5 For each one shall bear his own load. 7 Do not be deceived, God is not mocked; for whatever a man sows, that he will also reap. 8 For he who sows to his flesh will of the flesh reap corruption, but he who sows to the Spirit will of the Spirit reap everlasting life."……