BOB ROBERTS AND MICAH FRIES NEVER SEEM TO MISS AN OPPORTUNITY TO ENGAGE SOME NEW INTER-FAITH EFFORT. DAVID PLATT NOW JOINS THE MIX. THIS ONE IS JUST IN TIME FOR THE FLOW OF AFGHAN MUSLIMS IN THE U.S. AND A SIGNIFICANT INTER-FAITH POLICY SHIFT.
Rev Thomas Littleton
10/27/2021
You may have read about the "Neighborly Faith" movement on Christian Campuses to teach about the Muslim faith to young Christians on Christian Campuses . Now some of the same Baptist are offering the latest movement in interfaith interaction to "build community".
Enter Multi-faith Neighbors Network
TRANSFORMATION BEGINS WITH RELATIONSHIPS
MFNN builds mutual trust and respect among faith leaders through civic engagement, authentic relationships, and honest dialogue leading to resilient, compassionate, and flourishing communities.
"The brainchild of Pastor Bob Roberts Jr. and Imam Mohamed Magid, two prominent American religious leaders representing thousands of Evangelical and Muslim congregants, MFNN uses the extensive ties we have established with other faith leaders across the country to build bridges between religions."
VISION AND MISSION
"JOIN TOGETHER ON THE THINGS THEY SHARE IN COMMON "
"COMMUNITY"
"COOPERATION "
"COMMON GOOD"
Great day with Pastor Bob Roberts Jr. and evangelicals getting to know one another and planning projects for grassroOts. #BuildingBridges
MFNN AND MUSLIM WORLD LEAGUE MEET AND BREAK BREAD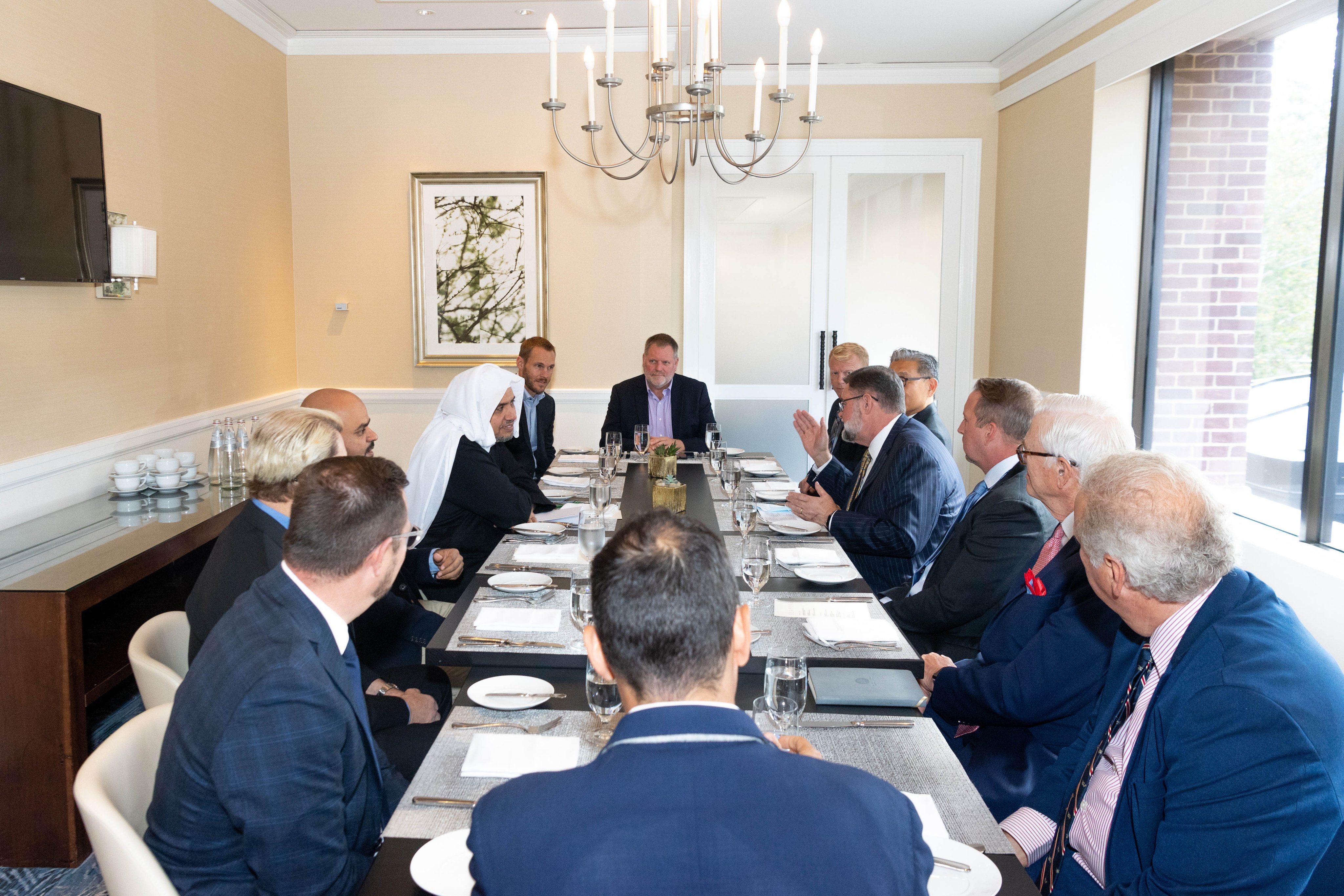 October 26th 2021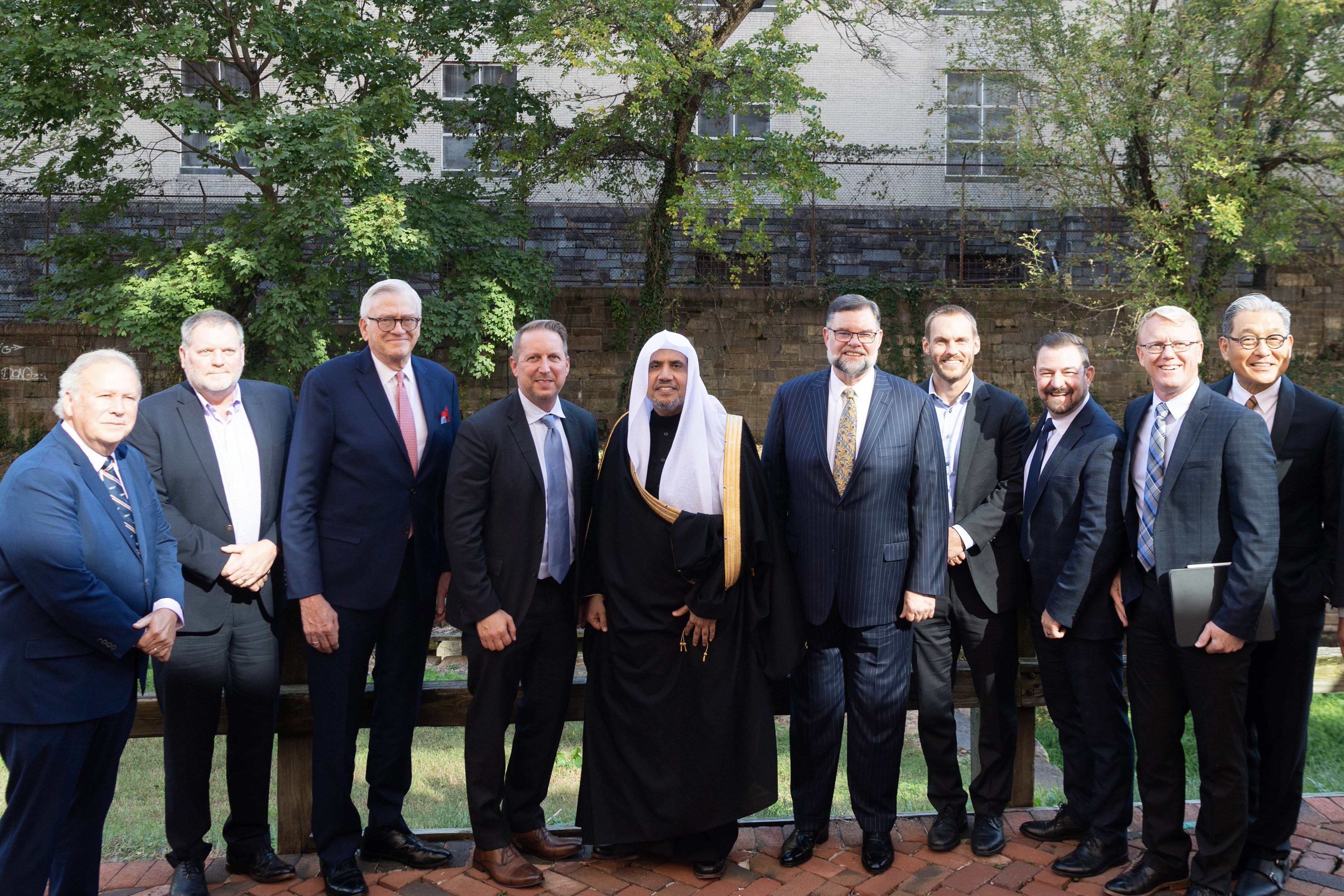 UPDATE – SINCE THIS ARTICLE WAS WRITTEN THE FOLLOWING INFORMATION HAS COME TO LIGHT .
A former federal prosecutor Andrew McCarthy who has testified before Congress and has investigated/ prosecuted terrorist in 2012 said the following about the Muslim World League :
Our Government and the Muslim Brotherhood
My Speech in Washington
by Andrew McCarthy
August 9, 2012
"…the Muslim World League in Saudi Arabia, (is) perhaps the most significant Muslim Brotherhood organization in the world."
As recently as 2018 many others have testified before Congress that the Muslim Brotherhood is "GLOBAL THREAT" DUE TO IT'S MASSIVE SUPPORT OF TERRORISM .
So David Platt and Bob Roberts , along with these other evangelicals meeting with the "World Muslim League", are collaborating with the "most significant Muslim Brotherhood organization in the world ".
HOW FAR WILL ROBERTS,FRIES AND PLATT TAKE THESE INTERFAITH EFFORTS?
The Charter of Makkah (Mecca, officially Makkah al-Mukarramah )
"On May 28, 2019, the "Charter of Makkah" was endorsed unanimously
by an unprecedented group of the world's leading Muslim scholars, who
gathered in the Holy City for the promotion of moderate Islam.
"The Charter of Makkah" offers Muslims around the world guidance on
the principles that speak to the true meaning of Islam.
The Charter of Makkah is orientated around the following principles:
1- All people, regardless of their different ethnicities, races and
nationalities, are equal under God.
2- We reject religious and ethnic claims of "preference."
3- Differences among people in their beliefs, cultures and natures
are part of God's will and wisdom.
4- Religious and cultural diversity never justifies conflict. Humanity
needs positive, civilized partnerships and effective interaction.
Diversity must be a bridge to dialogue, understanding and
cooperation for the benefit of all humanity."
THERE IS MORE ON THE CHARTER WHICH HAS 30 POINTS IN TOTAL.IT CAN BE FOUND IN WML LINK BUT THE MEETINGS PURPOSE WAS TO DISCUSS ENACTMENT.
WML met with American muftis, imams, and other leaders in Washington, DC to discuss Islamic affairs and preparations to enact the contents of the Charter of Makkah within societal and official frameworks
ROBERTS MULTI-FAITH NEIGHBORS NETWORK
Our Beliefs
"MFNN believes that equipping faith leaders to engage with leaders of other faiths can help build resilient communities.
MFNN believes that when Pastors, Imams, Rabbis, and other religious leaders come together to build relationships and learn from each other, they become models for their own faith communities. By way of example, they remove fear and increase understanding within their own faith communities.
MFNN believes that multi-faith relationships allow everyone to hold onto their own beliefs while still building deep bonds with other faiths and serving their city together. Faith leaders can be a powerful, moral voice in society. Working cooperatively, they can model the very kind of society and world that all of us are trying to build – one where community, cooperation, and the common good are respected."
WHATS MISSING ?
THE GOSPEL FOR ONE
There is a long history of the failure of God's people to remain faithfully exclusive to Jesus and salvation in no other name and "on mission" to preach that exclusive truth to all people. We have NEVER been called to "Build Community" with other religions and false gods. Is someone in the leadership so ignorant of or blind to the problems this created for old testament saints?
Jesus has not made the faith less exclusive but even MORE.
Acts 4: 8 Then Peter, filled with the Holy Spirit, said to them, "Rulers of the people and elders of Israel: 9 If we this day are judged for a good deed done to a helpless man, by what means he has been made well, 10 let it be known to you all, and to all the people of Israel, that by the name of Jesus Christ of Nazareth, whom you crucified, whom God raised from the dead, by Him this man stands here before you whole. 11 This is the 'stone which was rejected by you builders, which has become the chief cornerstone.' 12 Nor is there salvation in any other, for there is no other name under heaven given among men by which we must be saved."
YET BAPTIST LIKE ROBERTS AND FRIES MUST THINK THEY KNOW BETTER THAN THE APOSTLES AND THE WORD OF THE LORD.
Our Methodology
"MFNN develops grassroots movements built on mutual trust and respect among individual faith leaders, their families, their congregations, and their broader communities. The Multi-Faith Neighbors Network initiative begins at the local level, in carefully targeted cities and towns across the United States and the World, based on polling data and the willingness of faith leaders and congregations to participate in this initiative."
"We work with faith leaders to mobilize their congregations to use their vocation to serve others. Whether it is in their city or around the world, people of faith should be peacemakers by doing humanitarian projects together."
"When pastors, imams, rabbis, and other clerics and religious leaders come together to learn from each other, they become models for their own faith communities."
JUST IN TIME FOR THE FLOOD OF MORE MUSLIM REFUGEES
"Showing Hospitality to Strangers: Texas Churches Welcome Afghan RefugeesOur co-founder Bob Roberts Jr. says this moment may mark a change in how evangelicals think about refugees. "There's a shift that's taking place. We're coming back to who we are"
"Multi-Faith Neighbors Network@MultiFaithNN · Oct 27 Muslims, Jews & Christians in Pittsburgh cooked welcoming meals to prepare for the arrival of 15 new Afghan refugee families. Incredible story of coming together regardless of faith background & partnering together for the common good & needs in our communities."
EVENTS
Global Faith Forum
"The Global Faith Forum is a gathering of unlikely allies that venture down an unlikely path with the goal of building flourishing communities. We are moving from a conversation about others faiths, to a conversation with other faiths. A conversation that allows us to hear from those of different faiths, different worldviews, and different ideas that shape the way we communicate."
"Featuring speakers like Christine Caine, Shaykh Hamza Yusuf, Ambassador Sam Brownback, Nobel Peace Prize winner David Beasley, and others, it's going to be a powerful time. There is no cost at all to attend the event, but registration is required and limited."
"A Christian Theology of Multi-Faith Partnership"
by Micah Fries, Steve Bezner and Bob Roberts Jr
"Multi-faith is a challenge for many evangelicals. Evangelical Christians are not historically known to involve themselves in multi-faith, primarily out of a fear of sacrificing their evangelical distinctives and the exclusive truth claims of the gospel and as a result, evangelicals have unfortunately often created a subculture that isolates them from substantive relationships with people of other faiths. This is disconcerting as we believe both in multi-faith and the exclusive truth claims of Jesus as demonstrated in the Bible. We firmly believe that, not only are these concepts not in tension with one another, but they are in harmony with each other."
"Multi-faith partnerships also serve to provide clarity between the Christian faith and other faiths, as well as strengthening our own faith. When we represent other beliefs outside of our own, too often we fail to do so in a way that those who embrace those other beliefs would affirm. This is often an act of dishonesty. As Christians we must tell the truth. It is difficult to know the truth apart from interaction with those we are trying to understand. It is also difficult for those who disagree with us to know what we believe, unless we have a relationship with them as well. There is also a tremendous benefit to our own faith when we examine it, and have it examined, by those who do not hold to the same set of beliefs that we do."
SPORTING THE GRAND DECEPTION
"RELIGIOUS FREEDOM FOR ALL"
"At the heart of the American ideal, since its foundation, has been the principle of religious freedom. This commitment owes its foundation and strength, in large part, to Baptist pastor Roger Williams who demonstrated, theologically, that religious freedom is a biblical expectation. We believe that faith is a personal decision, and that each person must make a decision for themselves, without coercion, that determines what they believe. [Romans 14:5, 1 Corinthians 10: 29] Because we believe that this decision must be made without coercion, and that each person is eternally responsible for their own decisions, faith must then be allowed to exist on a level playing field. We do not believe that any faith should be prioritized or privileged over another. To do so would be to lean into coercion, and it would also deny our fundamental faith in the gospel of Jesus Christ. This appeal is also rooted in the dignity of every person. Each person is created by God with inherent worth and value and that worth is demonstrated by each person's own volition."
THE GRAND JUSTIFICATION OF MODERN DAY ERROR
WORKING FOR THE COMMON GOOD
"This is an often overlooked, and yet vital component of our collective Christian responsibility, and has been throughout Christian history. Through the years Christians have been involved in starting hospitals, universities, facilities for the aged, and orphanages. These are all activities that serve the common good, and which care for those who are in need. The commitment to serve the common good is evidenced in both the Old and New Testaments. God called the exiles in Babylon to live in such a way in their ungodly community so as to cause the blessings of God to be present. [Jeremiah 29: 4-14] We are told that our responsibility as followers of God is to pursue good, and not evil. We are to seek justice. [Amos 5: 14-15] Our pursuit of good government is an example of the biblical and necessary responsibility to pursue the common good of society."
PARTNERS AND LIKELY FUNDING
BUILDING RESILIENT COMMUNITIES
"We have partnered with organizations such as the Templeton Religion Trust, the Doha International Centre on Interfaith Dialogue, The Institute for Global Engagement, Forum for Promoting Peace in Muslim Societies, El-Hibri Foundation, and continue to partner with similar organizations to build relationships between clerics – that spreads to grassroots action – in order to bring down tensions and build flourishing communities."
THE SINGLE BIGGEST FALSEHOOD
Most of these focus , especially those based on refugee resettlement are funded by large government grant programs and therefor prohibit " ", any explicitly religious activity, giving away Bibles, Bible Studies , prayer, or similar activities.
Yet Multi Faith Neighbors network claims the work is a Gospel opportunity.
LOOK HARD BUT YOU WILL NOT FIND A CLEAR GOSPEL MESSAGE IN THE WORDS BELOW.
THE OPPORTUNITY TO SHARE OUR FAITH
"Our faith is best shared in the context of relationships. Like most any other piece of good news, while it is certainly possible for us to share it outside of a relationship, it is not as certain that it will be meaningful outside of a relationship. As evangelicals who believe in the importance of sharing our faith, multi-faith partnership provides a level playing ground where we can hear from and learn about the faith of others, but it also provides a unique opportunity to share our own faith with those who are interested. We believe that sharing the gospel is a responsibility of the follower of Christ. [1 Corinthians 9: 16] We believe that the gospel is a message for all people. [Romans 1: 16] Our declaration of the gospel is rooted in our desire to share with others the encouragement and hope that we have received from the gospel. [1 Peter 3: 15] Further, the gospel is rooted in God's love for the world and is intended to be expressed as a depiction of our love for the same world. [John 3: 16] Multi-faith partnerships, then, provide an opportunity to build real, genuine friendships with people of other faiths, where they have the opportunity to share with us about why their faith is meaningful and significant in their lives, and we, in turn, can share with them about how the gospel has been transformative in our lives. This opportunity also exists to share the gospel in a way that the gospel is not artificially advantaged. Christians in America, in particular, seem afraid of placing the gospel on the same level with other beliefs, which seems to betray a lack of confidence in the gospel. We believe that the gospel is beautiful and should be able to be seen as such when placed on a level playing field beside other faith traditions. [Romans 1: 16]"
CONCLUSION
At no place in the New Testament do we see Jesus or the Apostles engaging in community building with the plentiful rival religions around them. NONE- EVER. The modern day narratives of evangelical leaders like Roberts and Fries serve to build one of the globalist grand deceptions of a false GLOBAL SPIRITUALITY " and have nothing to do with the true Gospel or the exclusive and eternal HOPE it offers only in JESUS.
PAUL WAS NOT COMMUNITY BUILDING ON MARS HILL AMONG THE IDOLS
ACTS 17:
Addressing the Areopagus
22 "Then Paul stood in the midst of the [a]Areopagus and said, "Men of Athens, I perceive that in all things you are very religious; 23 for as I was passing through and considering the objects of your worship, I even found an altar with this inscription:
"TO THE UNKNOWN GOD."
"Therefore, the One whom you worship without knowing, Him I proclaim to you: 24 God, who made the world and everything in it, since He is Lord of heaven and earth, does not dwell in temples made with hands. 25 Nor is He worshiped with men's hands, as though He needed anything, since He gives to all life, breath, and all things. 26 And He has made from one [b]blood every nation of men to dwell on all the face of the earth, and has determined their preappointed times and the boundaries of their dwellings, 27 so that they should seek the Lord, in the hope that they might grope for Him and find Him, though He is not far from each one of us; 28 for in Him we live and move and have our being, as also some of your own poets have said, 'For we are also His offspring.' 29 Therefore, since we are the offspring of God, we ought not to think that the Divine Nature is like gold or silver or stone, something shaped by art and man's devising. 30 Truly, these times of ignorance God overlooked, but now commands all men everywhere to repent, 31 because He has appointed a day on which He will judge the world in righteousness by the Man whom He has ordained. He has given assurance of this to all by raising Him from the dead."